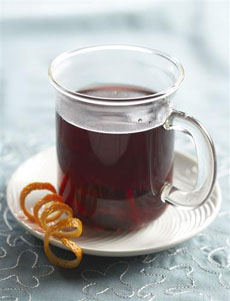 You can serve mulled wine in a mug, brandy snifter, wine glass or other vessel of your choice. Here's an affordable set of glass mugs that can also be used for Irish coffee. Photo courtesy Spice Islands.
December 2008
Last Updated December 2013

Mulled Wine Recipe
Warm, With Orange & Anise, A Perfect Fall & Winter Warmer-Upper
When it's cold outside, thoughts turn to warm beverages. The classic warm cocktail is mulled wine. This recipe comes from New York City's Kittichai restaurant and Thom Bar (named after its location at 60 Thompson Street in SoHo).
If you like the concept (and who doesn't?), here are three more hotties (or is that "warmies?"): recipes for mulled wine, mulled apple cider, glögg and glühwein.
National Mulled Wine Day is March 3rd—a good day to host a mulled wine get-together.
Ingredients
Preparation

Combine wine and spices.
Squeeze the juice of the orange into the mix; then zest the orange and add the zest to the mix.
Simmer the ingredients for about 2 hours.
Strain into a mug or snifter, preferably made of glass.
Garnish as desired. Or, set garnishes in small dishes and let guests choose their own.




Mulled wine shown with its mulling spices: cinnamon sticks, cloves, pink pepper corns, star anise and orange zest. Photo courtesy Kittichai Restaurant | New York City.
Mulled wine is a wine drink typically made from a hearty red wine, honey and spices. It originated as a way to save wine that had gone bad. The word "mulled" means heated and spiced.
Mulled wine is a traditional winter drink in northern Europe. Glögg is the Swedish form of mulled wine, Glühwein is a German variation, vin fieri ("boiled wine") is Romanian, and so forth. Different countries use different spices (cloves and black pepper versus cinnamon and star anise, e.g.) and sweeteners (sugar, brown sugar, honey, molasses). But the end result is the same: fragrant, warm, sweet and comforting.
Glühwein Recipe

Glühwein is the German word for mulled wine. Here's a recipe from Kurt Guttenbruner, chef/owner of Wallsé, a great haute-Austrian restaurant in Manhattan's West Village.
Ingredients
1 bottle of Zweigelt wine (an Austrian red wine) or substitute
1 orange (sliced in half with rind)
1 whole vanilla bean
Zest of 1 lime
Splash of port wine
Cinnamon stick
1 tsp of each: allspice, juniper berries, pink peppercorns, star anise
Honey to taste

Preparation
Place all ingredients in large pot and simmer for 30 minutes.
Before serving, add honey until desired sweetness is reached (approximately 5 tablespoons for whole pot).
Great Glass For Hot & Cold Beverages: Bodum's Assam
We love these 8-ounce Assam double wall glasses from Bodum, and use them at THE NIBBLE offices for hot and cold drinks.

The double-wall construction means that no coasters are necessary—no moisture will develop on the outside of the glass to ruin your furniture.
No handles are needed when drinking a hot beverage, because the double wall is a thermal insulator—no matter how hot the beverage inside, the outer wall stays cool.
Finally, we love these glasses because they look equally great serving coffee, tea or mulled wine. And of course, they're dishwasher- and microwave-safe.

You can buy them at Amazon.com. Assam is made in other sizes, from 3-ounce espresso, 13-ounce beer and 20-ounce iced tea glass.




Mulled wine shown with its mulling spices: cinnamon sticks, cloves, pink pepper corns, star anise and orange zest. Photo courtesy Kittichai Restaurant | New York City.
Recipe courtesy of Kittichai and Thom Bar. All other materials © copyright 2005- 2015 Lifestyle Direct, Inc. All rights reserved. Images are the copyright of their respective owners.