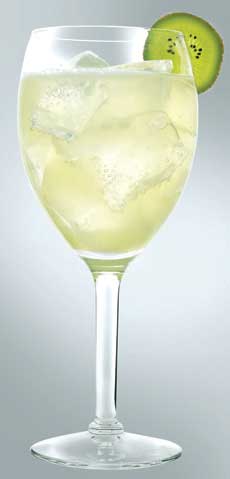 The drinkin' o' the green: Enjoy a special cocktail on St. Patrick's Day.

St. Patrick's Day Cocktail Recipe
Recall The Emerald Isle With "Dublin Delight," A Vodka Cocktail
Don't color the beer green at your St. Patrick's Day party. Let the beer drinkers enjoy fine craft beer in the golden color it should be. Those who want a vodka cocktail can go green with a Dublin Delight, created by Grey Goose Vodka master mixologist, Nick Mautone. Mautone, author of Raising the Bar, (shown below), created this St. Patrick's Day cocktail with fresh seasonal ingredients and Grey Goose Vodka's popular Le Citron lemon-flavored vodka.
Find more St. Patrick's Day Cocktails.
Ingredients Per Cocktail
2 parts Grey Goose Le Citron
1 part simple syrup
1 kiwi fruit, peeled and quartered
1 sprig of mint
1-inch piece of vanilla pod
Splash of club soda

Preparation

In the bottom of a cocktail shaker, place the kiwi, mint and vanilla pod.
Pour in the simple syrup; muddle well.

Add Grey Goose Le Citron and ice to the mixture. Shake vigorously until the outside of the shaker is frosted and beaded with sweat.

Double strain into large wine glass filled with ice.

Top with club soda and garnish with sprig of mint or kiwi rind.




Raise the bar at your parties with other cocktails by Nick Mautone.



Recipe © copyright Grey Goose. Additional material © copyright 2005- 2015 Lifestyle Direct, Inc. All rights reserved. Images are the copyright of their respective owners.