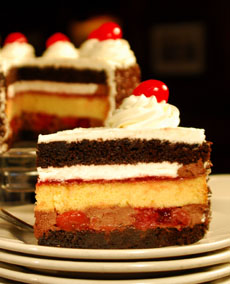 A modern version of the Black Forest Cake from Morton's The Steakhouse.

Black Forest Cake
Page 3: Recipe, Continued
This is Page 3 of a four-page recipe. Click on the black links below to visit other pages.
Brandy or rum can be substituted for the Kirsch.

Two 16-ounce cans pitted tart cherries in
water
1/3 cup packed brown sugar
1/4 cup cornstarch
1/2 teaspoon ground cinnamon
1/3 cup sugar
1 tablespoon unsalted butter
2 tablespoons Kirsch (optional)

Kirsch is colloquially known as cherry schnapps, meaning fruit brandy or liqueur.
Cherry Filling Preparation
Drain liquid from canned cherries, reserving 1 cup liquid.
In a 2-quart saucepan, combine brown sugar, cornstarch, cinnamon, reserved cherry liquid and 1/3 cup sugar.
Cook over low heat, stirring constantly, until mixture boils and thickens, approximately 1 minute.
Remove pan from heat, stir in butter and vanilla extract; fold in cherries. Set aside to cool.
4. Kirsch Syrup Ingredients (Optional)

Make this syrup if you plan to use Kirsch in the recipe.

1/2 cup granulated sugar
1/2 water
1/4 cup Kirsch

Kirsch Syrup Preparation

Combine sugar and water in a saucepan. Bring to a simmer, stirring until the sugar is dissolved.
Remove pan from heat and stir in Kirsch. Let cool.


Here, miniature chocolate chips are used as
part of the chocolate decor. Photo by Oksana Struk | IST.
1 quart heavy whipping cream
1 cup confectioner's sugar

Preparation

During assembly (see below), whip cream with an electric mixer at high speed, using the paddle attachment.

6. Chocolate Whipped Cream Ingredients

1/2 quart heavy whipping cream
3/4 cups confectioner's sugar
3/4 cups cocoa powder

Preparation

Using a small chilled bowl, whip ingredients together until soft peaks form. Set aside.




Cherry topping is a tastier alternative to most maraschino cherries. Photo by Jack Puccio | IST.
Now that you've baked and simmered and whipped all of the components to perfection, you're ready for the final challenge: putting them all together into one picturesque masterpiece.
Go To Page 4: Assembling The Cake
Recipe © Morton's The Steakhouse. Other material © Copyright 2005- 2015 Lifestyle Direct, Inc. All rights reserved. Images are the copyright of their respective owners.