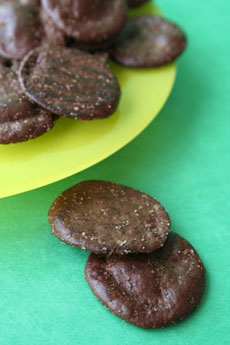 Very chocolatey, very crispy and just 90 calories per package. Photography by Claire Freierman | THE NIBBLE.
KAREN HOCHMAN is Editorial Director of THE NIBBLE.

O'Coco's Organic Chocolate Crisps
Delicious Lowfat Organic Cookies, Certified Kosher
November 2008 Update: We have been informed that the manufacturer, Hain Celestial, is discontinuing this wonderful product. Grab them while you can!
CAPSULE REPORT: Low in fat, organic and just 90 calories per single-serve (.7 ounce) package, O'Coco's are a real find. When you want a chocolate cookie snack, the dozen or so thin, half-dollar size cookie crisps hit the spot. At 79¢ per bag, the price is right, too. The USDA-certified organic line is also certified kosher (dairy) by the Orthodox Union. This is Page 1 of a two-page article. Click on the black links below to visit Page 2.
Overview
We don't like too many packaged cookies, and you won't find many reviewed in THE NIBBLE. Even the organic variety, made with all-natural ingredients, are often too sweet or just not worth the carbs, which we'd rather enjoy in another form (ice cream, cake, chocolate...). But we taste everything that crosses our path, and really flipped for O'Coco's Organic Chocolate Crisps: thin, wafer-type cookies that can be enjoyed from the grab-and-go bag, or as a sophisticated accompaniment to accessorize other foods (more about that below).
O'Coco's Cookie Flavors

O'Coco's Chocolate Crisps are made in three varieties:

Original, with a deep, rich, chocolatey taste, sure to please everyone.
Mocha, a fine, assertive mocha flavor with similarly deep and rich coffee notes married to the chocolate.
Cinnamon, the Original chocolate touched with a bit of cinnamon.

You can tell that they are made from the finest organic ingredients, with nothing artificial added. The ingredients are wholesome: organic whole wheat flour, organic evaporated cane juice, organic cocoa powder, organic canola oil and organic brown rice flour, among others.




Portion-controlled, 90-calorie bags are terrific.
We love that the bags are portion-controlled, and that these delicious cookies are made in wafer-thin "crisps," so that, for the calories, one gets to eat a dozen of them instead of two standard-size cookies.
Continue To Page 2: Serving Suggestions
© Copyright 2005- 2015 Lifestyle Direct, Inc. All rights reserved. Images are copyright of their respective owners.