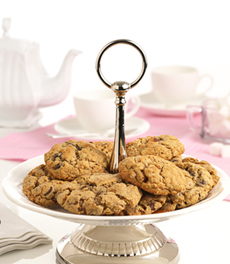 The Dough Bar makes variations on everyone's favorite cookies, chocolate chip and oatmeal.
KAREN HOCHMAN is Editorial Director of THE NIBBLE.

The Dough Bar
Classic Chocolate Chip Cookie & Oatmeal Cookie Gifts
CAPSULE REPORT: Lovely cookies, nicely gift-boxed, and a convenient gift reminder service. Any cookie lover would be happy to get gifts from The Dough Bar. This is Page 1 of a two-page article. Click on the black links below to visit Page 2.
The Dough Bar Overview
As followers of the Dilbert comic strip know, corporate life doesn't leave many people satisfied. But many people know the joy of baking. After 13 years in advertising, marketing and project management, Rosilind Coleman decided to pursue her true joy of baking, leaving her beige cubicle to produce much more satisfying beige treats—cookies and toffee bars. Creating each batch of dough by hand, she is now Chief Executive Cookie Creator of The Dough Bar in Dallas, and her goal is to make you happy with each bite.
Her ample, 3-1/2-inch diameter cookies are of a special texture, managing to be crunchy and chewy at the same time. Ms. Coleman certainly aims to please, generously packing them with chips and chunks. Although made with pure butter, these cookies don't bleed butter—there are no butter marks on the napkin, no buttery fingers to wipe.
The recipes continue to be special: There's just enough good sweetness from the quality chocolate without being overly sweet. They actually taste "good for you" because they taste good without the normal signs that typically accompany a good cookie. The only danger, given the fascinating restraint of the recipes, is that you'll eat too many cookies because there are no warning signals to say: butter sugar butter sugar stop stop stop.
Chocolate Chip Cookie Varieties
Ms. Coleman doesn't believe in "plain." There are three varieties of chocolate chip cookies.
The Signature Cookie (a.k.a. Toffee Chocolate Chip) adds buttery toffee bits and crunchy pecans to the semi-sweet morsels.
Chewy Coconut Chip Cookie adds lots of chewy coconut and buttery caramel to the semi-sweet chocolate chips.
Chocolate White Chocolate Macadamia Cookie, perhaps our favorite (although there are only winners here), has both white chocolate and semi-sweet chocolate chips with large chunks of macadamia nuts. Believe it or not, this is not an overwhelming, rich, sweet, cookie, which is what we expected. It's perfectly "tempered."




Chocolate White Chocolate Macadamia Cookie, our favorite.
Continue To Page 2: Oatmeal Cookie Varieties
© Copyright 2005- 2015 Lifestyle Direct, Inc. All rights reserved. Images are copyright of their respective owners.