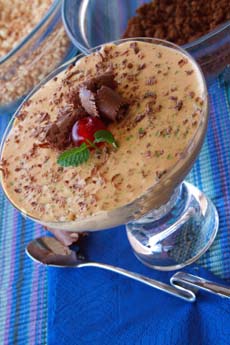 Even comfort food can go glam. Photo by Duard van der Westhuizen.

Michael Recchiuti's Butterscotch Pudding
A More Sophisticated Version Of The Popular Comfort Food



Need some comfort to chase away the winter blues? This butterscotch pudding recipe, like Michael Recchiuti's Brown Sugar & Macadamia Nut Cookies, is another opportunity to explore the exotic, high quality brown sugars available at many gourmet and health food stores. These sugars add a personality and depth you won't find if you use a less expensive, big name brand brown sugar. If you can find it, Michael recommends using Billington's Dark Muscovado or Molasses sugar for this recipe. Read more about Billington's sugars.

Ingredients
6 tablespoons unsalted butter
1-1/4 cups dark brown cane sugar, packed
1 Tahitian vanilla bean, split horizontally
2-1/4 cups whole milk, plus 1/2 cup milk set aside
3/4 cup heavy whipping cream
1/4 cup plus 1 tablespoon cornstarch
1/4 teaspoon kosher salt
3 extra-large egg yolks
1/2 tablespoon pure vanilla extract, preferably Madagascar Bourbon
Crème fraîche (for garnish)
Shaved chocolate (for garnish)
Preparation
Melt the butter in a large saucepan. Scrape the vanilla seeds from the bean into the pan and then add the bean. Add the brown sugar and simmer gently just until it dissolves. Remove from heat.
In a medium saucepan, stir together 2-1/4 cups of the milk and the heavy cream. Bring to a boil over medium heat.
Pour the hot liquid into the dissolved brown sugar. Whisk this mixture to combine.
In a small bowl, mix together the remaining 1/2 cup milk, cornstarch and salt. Whisk this into the saucepan and return the mixture to a boil. Reduce heat to a simmer.
Place the egg yolks in a small bowl and whisk by hand until blended. Whisk about 2 tablespoons of the milk mixture into the yolks to warm them gradually. Let temper for about 30 seconds.
While stirring, gradually add the tempered yolks to the hot mixture until fully combined. Remove from heat and let cool slightly.
Strain the pudding through a fine-mesh sieve into a bowl. Add the vanilla extract and stir until combined.
Pour or spoon the pudding into individual serving cups. Cover and refrigerate for at least 6 hours or overnight.
Serve chilled or at room temperature within 24 hours.
Garnish with crème fraîche and shaved chocolate.
Yield: 6 cups
Recipe © copyright Michael Recchiuti. Other material © Copyright 2005- 2015 Lifestyle Direct, Inc. All rights reserved. Images are the copyright of their respective owners.