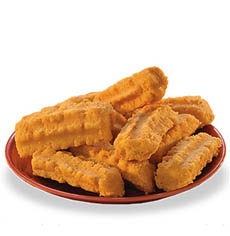 KAREN HOCHMAN is Editorial Director of THE NIBBLE.
September 2007
Updated October 2008

Cheese Straws
Page 1: The History Of Cheese Straws
CAPSULE REPORT: Cheese straws are a delectable cocktail snack, "cheese crackers" raised to the most sophisticated form. They pair perfectly with wine, beer, spirits on the rocks and savory mixed drinks. Baked for centuries, cheese straws have made a comeback in recent years along with the martini and other cocktails. Attributed to southern origins, here we profile two companies from the deep south, each with a slightly different take. Neither bakes the original straw shape. J & M Foods makes a small, moist, s-shaped cheese nibble. The Mississippi Cheese Straw Factory makes a larger, crunchier and more robustly-flavored rectangular cheese biscuit. Both companies make a variety of savory and sweet straw flavors, and both lines are worth sampling to determine which side of the straw your preferences lie. This is Page 1 of a four-page review. Click on the black links below to visit other pages.
No one knows the exact origin of the cheese straw, but they are credited as a Southern invention. As the likely tale goes, a frugal cook mixed leftover biscuit dough with some cheese, forming it into long narrow strips that were baked along with the biscuits—but were enjoyed as a snack instead of at meals. Their popularity spread—you can find cheese straws in recipe books from the Midwest and beyond, beginning in the 1800s. The most basic recipe is an easy cheese dough made from flour, grated cheese, a teaspoon of salt and baking powder, cut with a pastry wheel into long, narrow strips ("straws").
Today, cheese straws are usually served at cocktail parties or instead of crackers or bread with soups or salads. While early recipes are non-specific, simply stating, "cheese," flavorful Cheddar evolved to be the cheese of choice.

Few of the gourmet cheese straws are still in "straw" shape. One of our favorites, John Wm. Macy CheeseSticks, observes the traditional form with a twist—they are actually twisted, and made from puff pastry. They're also available in a variety of cheese flavors, as is true with most straw producers.

Cheese straws are easy to make from purchased puff pastry, if you want to serve them hot out of the oven. You can make cheese sticks from your favorite butter cookie dough, too. There are as many different shape and recipe combinations as there are creative bakers.


More of a classic straw shape, these straws
from John Wm. Macy have a "twist" all their own.
The companies in this review make a different style of "straw." In fact, they're not straws at all, more like cheese-flavored butter cookies. They go for the bite-size, rather than for the bread stick-type straw like John Wm. Macy's, shown in the photo above. One is a small rectangular (two bites), the other, an even smaller elongated s-shape (one bite). Still other companies make round cheese biscuits (one bite).
Both of our featured companies make all-natural products—no preservatives and no hydrogenated oils. They come in a variety of boxes and tins, suitable for gifts and stocking stuffers.
Continue To Page 2: Cheese Straw Flavors
© Copyright 2005-2015 Lifestyle Direct, Inc. All rights reserved. Images are the copyright of their respective owners.