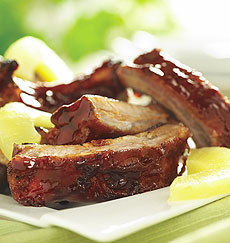 You can adjust the sweetness of these lip-smacking baby back ribs to your palate by altering the amount of brown sugar.

Photo courtesy J.M. Smucker Company.

Recipe: Baby Back Ribs
Grilled With Pineapple

This baby back ribs recipe was a finalist in the 2009 Crisco Grilling Hall Of Fame Contest; contestants used Crisco No-Stick Cooking Sprays to grease their grills. You can read more about the contest on Page 1. This is Page 12 of a 15-page recipe series. Click on the black links below to view the other recipes.
Pineapple Ribs
If you like your baby back ribs sweet, this is the recipe for you! Who needs a deep pit barbecue? You can also make this recipe with your broiler. Serves 4.
Ingredients
2 racks of baby back ribs
One 46-ounce can pineapple juice
One 20-ounce can pineapple slices
3 tablespoons salt
1 teaspoon pepper
1-1/2 to 2 cups dark brown sugar
1 cup ketchup
3/4 cup of your favorite BBQ sauce (see our BBQ sauce reviews)
Non-stick cooking spray
Preparation
Cut the ribs in half for easier handling.
In 8-quart cooking pot, put ribs, pineapple juice and slices, salt, and pepper. Add enough water to cover the ribs. Bring to boil and boil for 35-40 minutes or until meat starts to pull away from the bone.
Drain water from pot and leave the ribs in the pot for 15-20 minutes to dry a little.
Spray grill rack with non-stick cooking spray. Heat grill on low-medium.
Mix brown sugar, ketchup and BBQ sauce together in bowl.
Place ribs on the grill and coat with sauce. Cook for 6 minutes or until sauce has begun to caramelize. Turn ribs over and repeat with remaining sauce for another 6 minutes.
Broiler can be used in place of grill for year-round enjoyment.
Go To Page 13: Smoky Mojo-Mango Pork Loin
Recipe copyright 2009 J.M. Smucker Company. All rights reserved. Other material © Copyright 2005- 2015 Lifestyle Direct, Inc. All rights reserved. Images are the copyright of their respective owners.