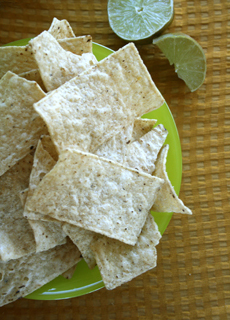 Open the bag of Sea Salt & Lime tortilla chips and you'll smell the natural lime oil flavoring. Photography by Hannah Kaminsky | THE NIBBLE.
CHRISTINA GONZÁLEZ is an Editorial Intern at THE NIBBLE.

A More Flavorful Tortilla Chip
Laurel Hill Tortilla Chips Are More Complex Than The Average Chip
Gluten-Free, Kosher & Vegan
CAPSULE REPORT: Laurel Hill Foods has been making barbecue sauce, salsa and snack mixes since 1965. The company is now producing a line of tortilla chips to go with the salsa. Made with all-natural ingredients, no preservatives and a selection of healthy ingredients like chia seeds, flax seeds, quinoa and pumpkin, these chips taste as good as they sound. They're also gluten-free, kosher and vegan. With a thick texture and unusual rectangle shape, Laurel Hill tortilla chips will have you dipping away. We found all of the flavors to be very good, but the Olive & Caper and Pepita & Spice varieties were standouts. This is Page 1 of a two-page review. Click on the black links below to view the other page.
Overview: A More Complex Chip
We really enjoyed Laurel Hill's take on the tortilla chip.
The flavors in all four varieties are more complex than the average tortilla chip. The natural flavors really shine through: You can taste the individual ingredients, ranging from the subtle nuttiness of sesame seeds to the mild sweetness of pumpkin. Compare that to supermarket corn chips, many of which deliver bland flavor and salt overload, and you'll quickly convert.
The rectangular shape makes the chips ideal for dipping. We've all been there: The jar of salsa is nearly empty, but we still try to dip our chip inside to scoop up the remainder. This usually ends up with either a broken chip or salsa all over our fingers.

Laurel Hill solved that problem with a rectangular shape easily fits inside a jar and is generously thick and less fragile than traditional chip triangles—the better to hold your favorite salsa or dip.

The thicker-cut chips contain 140 calories for a one-ounce serving, with 6g of fat and a relatively low 80 mg of sodium.

Pepita & Spice Laurel Hills Chips.
Follow us to Page 2 for more details on the the flavors of Laurel Hill Tortilla Chips and where you can buy them.

Continue To Page 2: Flavors Of Laurel Hill Tortilla Chips
Recent Articles From Our NutriNibbles™ News Feed:
Subscribing notifies you whenever there are
new additions to the NutriNibbles™ section.

Subscribe to THE NIBBLE™ NutriNibbles™ by Email
© Copyright 2005-2015 Lifestyle Direct, Inc. All rights reserved. Images are the copyright of their respective owners.