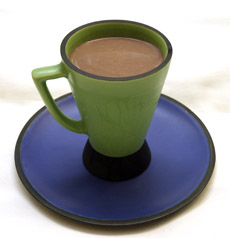 A new twist on something familiar yet special: chocolate egg nog. Photo by Elton Lin.

Chocolate Egg Nog Recipe
A Recipe For Egg Nog With A Special Twist
What's better than egg nog? Chocolate egg nog! This recipe comes to us from the chocolate experts at Woodhouse Chocolates, a NIBBLE Top Pick Of The Week. It's lightly spiked with Bourbon; you can add more alcohol if you wish. You should make this recipe a day in advance to allow the flavors to integrate.
Ingredients
6 eggs

1/4 cup sugar

Pinch of salt

3 cups milk

6 ounces of quality dark chocolate, chopped

2/3 cup cold heavy cream

2 teaspoons vanilla extract

1 tablespoon freshly-ground nutmeg

1/2 cup Bourbon

Whipped cream and fresh-grated nutmeg for garnish (optional)
Preparation
Place the chopped chocolate in a medium mixing bowl and set aside. Also have at the ready the heavy cream in a measuring cup or pitcher.

In a second medium-size bowl, whisk together the eggs, sugar and salt. Whisk in the milk, then pour the mixture into a saucepan.

Heat the egg mixture over medium-low heat, stirring constantly until it reaches 160°F. Be careful to heat gently and remove from the heat as soon as the mixture reaches 160°, or you will curdle the eggs.

Pour about ½ cup of the hot egg/milk mixture over the chocolate and pour the rest back into the bowl in which you whisked it in. Immediately, stir the cold cream into the egg/milk mixture in the bowl (not the chocolate bowl).

With a small whisk, start whisking in the center of the chocolate mixture, working in small, circular motions to emulsify the chocolate. When you have a smooth, homogenous mixture, gradually add the rest of the egg/milk mixture.

Whisk in the vanilla, nutmeg and Bourbon. Chill for several hours, preferably overnight, to mellow the flavors. Serve cold, with a dollop of whipped cream and a sprinkling of grated nutmeg, if you wish.
Recipe Copyright Woodhouse Chocolate. Other material © Copyright 2005- 2015 Lifestyle Direct, Inc. All rights reserved. Images are the copyright of their respective owners.