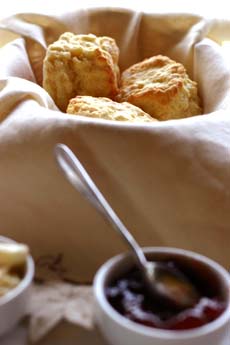 STEPHANIE ZONIS is a contributing editor.


June 2006
Updated December 2008

The Best Strawberry Jams & Preserves
Page 6: Best Strawberry Jam
This is Page 6 of a seven-page article. Click on the black links below to visit other pages.
The Best Pure Strawberry Jams & Preserves

We tasted more than 100 brands to develop this list of finalists.
Continue To Page 7: Mixed-Fruit Jams
Go To The Article Index Above
Mixed-Fruit Jams

Given the popularity of strawberry jam, it isn't surprising that so many companies produce it. What is surprising is the number of manufacturers offering a strawberry-rhubarb jam or preserve. A few companies even make this variety without manufacturing a plain strawberry! Strawberry and rhubarb is the most popular combination, by an order of magnitude, among manufacturers who combine strawberries with another fruit or flavor.

A few combinations involving strawberries and cranberries were evaluated, but to this reviewer's taste buds, the cranberry taste invariably overwhelmed the preserve. Strawberries have a relatively delicate flavor, and their taste can be easily "masked" by that of another food item meant to enhance a jam. Combinations of strawberries and liqueurs, hot peppers, herbs, fruits other than cranberries or rhubarb, and even balsamic vinegar were all tested.



Rhubarb, resembling pink celery, is often mistaken for a fruit; but it is a vegetable that is closely related to garden sorrel. It originated in Asia more than 2,000 years ago and was initially cultivated for medicinal purposes. It was not until the 18th century that it was grown for culinary purposes in the U.S. and the U.K. Nutritious and low in calories (a ½ cup has just 15 calories), it is rich in vitamin C and dietary fiber, and also has some calcium. Photo courtesy of Ohio Farm Bureau Federation, Inc.
Hot Stuff
Special thanks to The National Center for Home Food Preservation, Allyn Johnston of Mountain Fruit Company in Chico, CA and Mike at Pacific Pectin, Incorporated, of Oakhurst, CA.
Strawberry Fields Forever
| | | |
| --- | --- | --- |
| | | |
| Portmeirion Strawberry Fair Salad Bowl. The highest quality earthenware salad bowl from the famed producer. You can also fill it with fruit, chips, popcorn and party food. 11-Inch bowl. In addition to the pieces shown here, there are many other matching pieces available. Click here for more information or to purchase. | Portmeirion Strawberry Fair Ewer Pitcher. Another beautiful piece in the beautiful Strawberry Fair pattern, this 2-quart earthenware pitcher can serve water, lemonade or any beverage in the dining room or kitchen; it's also charming as a bedroom water pitcher. Click here for more information or to purchase. | Portmeirion Strawberry Fair Serving Dish. Like all Portmeirion earthenware pieces, this 15" oval platter is dishwasher, microwave and freezer-safe, and oven safe to 390 degrees. Use it to serve anything from hors d'oeuvres to roasts to desserts. Click here for more information or to purchase. |
| | |
| --- | --- |
| | |
| Copco Strawberry Teakettle. This 2-1/2-quart enamel on steel kettle by designer Maryana Vollstedt perks up any kitchen and is so cute, it may even make the tea taste better. Click here for more information or to purchase. | Strawberry Ice Cube Tray. These flexible rubber trays make strawberry-shaped ice cubes for your water, lemonade and other drinks. You can freeze red juices (cranberry, e.g.) to drop into other juices or sparkling water, or color the water red with a few drops of food coloring before freezing. Click here for more information or to purchase. |
Continue To Page 4: What To Look For In A Jam
Go To The Article Index Above
© Copyright 2005-2015 Lifestyle Direct, Inc. All rights reserved. Images are the copyright of their respective owners.