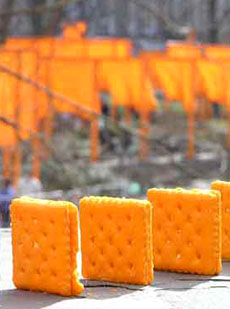 In this case, art imitates art. Check out "
The Crackers
." And hope Christo doesn't sue.


Fun Food, Silly Food, Bizarre Food
Just Don't Feed It To The Dog!
All we can say is: if any of this makes you hungry, you have probably wandered onto this website by accident. Or, you just may be hungry. In which case, head over to our real food section, and check out all of the truly delicious food we write about.
For Real
OK, Google™ Gulp! isn't real, but you can suck down a can of Pimp Juice, Pit Bull or Spaz Juice any time. Probably not in front of mom or the kids, though.
| | | |
| --- | --- | --- |
| | | |
| Pimp Juice | Pit Bull | Spaz Juice |


Related Food Videos:



For more food videos, check out The Nibble's Food Video Collection.


© Copyright 2005-2015 Lifestyle Direct, Inc. All rights reserved. Images are the copyright of their respective owners.