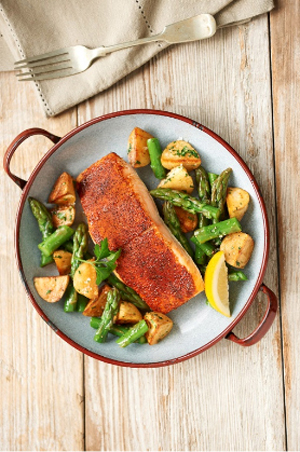 Buy a package of Rebel Fish salmon and you can have this blackened salmon fillet ready to eat in 90 seconds. It's true, and it's delicious. See our review.
You don't have to use heart-shaped cheeses, but it will be a memorable cheese experience if you do. Plus, ways to decorate a Valentine cheese plate. Take a bite.

It's also known as figgy pudding and Christmas pudding, but this hearty steamed cake can be enjoyed in any cold-weather month. Try this recipe. See all the February food holidays.



Make these skewers to eat as is, or to dip in chocolate fondue. We say: Do both! Check it out.
This Week's Features
You may love beef, but can you identify the different cuts? How about the difference between Filet Mignon and Chateaubriand? Brush up and become a beef wizard.

It couldn't be easier to turn Frosty from cold snow to hot pizza. Take a look. More videos.

Take advantage of winter's red grapefruit to make delicious cocktails. Here are the recipes.

The new SodaStream Splash Play is our new favorite. It takes both SodaStream canister sizes, for more flexible carbonation. The scoop.

Forget the legend of a housewife in Maine. Brownies first appeared in a famous cookbook. The scoop.

There's cheese above: mascarpone, one of the fresh (unaged) cheeses. Check out the others: crème fraîche, labneh, quark and more. Take a bite.
Most Popular Articles
More Of Our Most Popular Articles