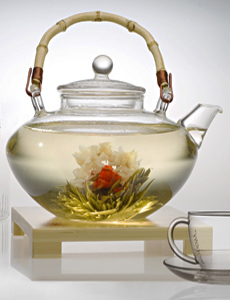 Gourmet Mother's Day Gifts 2009
Page 2: Diet & Calorie-Free Gifts
Our 2009 selection of specialty food gifts for Mom also includes gifts for moms who are watching their calories. This is Page 2 of a multi-page article. Click on the black links below to visit other pages.
Prices and product availability are verified at publication but are subject to change. Shipping may be additional. THE NIBBLE does not sell products; these items are offered by a third party with which we have no relationship. They have been recommended because we think they are outstanding products.
Diet Gifts

Americraft:
360 Waterless Cookware



We didn't believe it until we saw an in-person demo; then we got our own cookware. Honest-to-goodness, you need zero added fat to cook with these pots and pans. It's brand-new Vapor® Technology that uses the moisture inside the food to cook it fast—and good. Meats brown and taste great. Perfect for calorie-counters. The company "set the standard for green manufacturing in the cookware industry."

Individual Pieces
$129.95 To $259.95

Gourmè Mist:
Balsamic Vinegar & Olive Oil Misters


If Mom has trouble giving up heavier salad dressings, here's a fun way to add lower-calorie oil and vinegar to salads, cooked vegetables and other foods. These spray bottles "mist" health olive or canola oil and flavorful balsamic vinegar onto salads, cutting back the calories of dripping salad dressings. Available in organic and natural EVOO, organic canola oil, barrel-aged balsamic vinegar, pomegranate balsamic and raspberry balsamic. So much fun that all family members will start eating more salad. The spray is non-aerosol, environment-friendly, without chemical propellants.

Organic Olive Oil Mister
$8.99
Other Flavors
$7.99

Procter & Gamble:
PUR Flavor Options

PUR Flavor Options is the first, and currently the only, water filtration system that allows you to choose flavored or unflavored water by the glass. The flavor cartridges are interchangeable, and are available in Grape, Lemon, Peach, Raspberry and Strawberry—natural flavor with artificial sweeteners (acesulfame K and sucralose—read more about artificial sweeteners), for zero calories. Plus, PUR is a green gift: up to 75 servings per flavor cartridge (as little as $0.07 per glass), so one tiny recycled cartridge equals 75 bottles of flavored water (and costs a lot less). In addition to the pitcher, there's a faucet filter option. Available at retailers nationwide, there are $7.00 worth of coupons on the company website.

Pitcher With One Cartridge
$34.95 At Buy.com
Faucet Mount
$40.99 At Drugstore.com
Flavor Cartridges
Two For $8.49 At Drugstore.com


Photo by Hannah Kaminsky | THE NIBBLE.

Teaposy:
Tea Cocktails


Teaposy makes "blooming teas" from Silver Needle white tea. Handcrafted by artisans in China's Fujian province, these tea leaves are tied with natural herbal flowers into what appear to be knots; but drop a knot into a tea cup or tea put and the knot "blooms" into a lovely "tea blossom" that flavors your pot of white tea. Teaposy also makes beautiful glass pots and cups to showcase the blossoms.

Click on links to purchase. For corporate information visit Teaposy.com.



© Copyright 2005- 2015 Lifestyle Direct, Inc. All rights reserved. Images are the copyright of their respective owners.