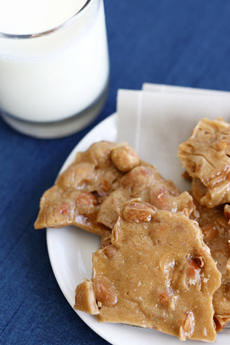 People on sugar-free diets will love the sugar-free line from See's Candies, including delicious peanut brittle. Photo by Katharine Pollak | THE NIBBLE.

Sugar Free, Gluten Free & Low Calorie Gift Ideas
Great Treats With Fewer (Or No) Calories
These "diet gifts" are great for people looking for great-tasting food with fewer calories. Choose from sugar free, calorie free, gluten free and lower calorie gifts. You can also check our prior year's diet gift ideas.
Prices and product availability are verified at publication but are subject to change. Shipping is additional. These items are offered by a third party and THE NIBBLE has no relationship with them.
Ayala's:
Herbal Water

We love the sophisticated flavors of Ayala's calorie-free, unsweetened herbal waters. They're infused with favorite herbs. Since they're not sweetened, they pair well with food for those who don't drink alcohol. For a dieter, they're a calorie-free refreshment. This year, Ayala's added to their single-serve bottle line with these beautiful 750ml glass bottles (the size of wine bottles). Read our review of the no-calorie herbal water, a NIBBLE Top Pick Of The Week.

750ml Glass Bottle
Case Of 3: Cinnamon Orange Peel,
Ginger Lemon Peel & Lemongrass Mint Vanilla
$24.00




Sophisticated flavor with zero calories. Photo by Katharine Pollak | THE NIBBLE.

The Cookie Jar:
Gluten Free Cookies

This gluten free baker makes large (two-ounce) cookies in Chocolate Lover (brownie cookie with chocolate chips), Double Chocolate Chip, Oatmeal Choc-O Cherry, Peanut Butter Bliss and Sweet Sugar ( a frosted vanilla cookie). We tried Double Chocolate Chip and Peanut Butter Bliss and were very pleased. But the Chocolate Lover brownie-chip cookie is beckoning to be bought.

Box Of 6 Cookies
Single Flavor
$15.99




Gluten free chocolate chip and PB cookies. Photo by River Soma | THE NIBBLE.

Enstrom:

Sugar-Free Toffee Popcorn


Enstrom is not only our favorite toffee-maker; the company's sugar-free toffee, sweetened with maltitol, is virtually indistinguishable from the conventional version. Now, the sweet folks at Enstrom's have made a sugar-free version of their almond and pecan toffee popcorn as well. Anyone who loves sweets but is avoiding sugar will be in seventh heaven. Read our review of Enstrom's Toffee, a NIBBLE Top Pick Of The Week. Enstrom's products are certified kosher (dairy) by Scroll K/Vaad Hakashrus of Denver.

Enstrom Sugar-Free Toffee
Popcorn
8 Ounces
$7.25
Sugar-Free Toffee
1 Pound
$20.95
Sugar-Free Nut Clusters
$28.75

Buy online at Enstrom.com

Sugar-free almond toffee and almond-pecan toffee popcorn. Photo courtesy Enstrom.


Napa Soap Co.:

Wine-Inspired Soaps


On a diet where he/she can't have wine? Live vicariously with these beautiful, wine-inspired soaps in Cabernet Soapignon, Mandarin Chardonnay, Soapignon Blanc, Tea-no Grigio and White Zinfandel. They'll also be appreciated by those who love their wine.

Napa Soap Co. Wine Soaps
0.5 Pounds Bar
$8.95

Buy online at NapaSoap.com

Wine-inspired soaps from Napa Soap Co. Photo by Katharine Pollak | THE NIBBLE.


Perfect Organics:

Hazelnut Coffee Ultimate Body Scrub


Coffee ice cream may be out of the question, but this Hazelnut Coffee Ultimate Body Scrub can fill the void with zero calories. A luxurious combination of extra-gentle, all-natural exfoliants, replenishing plant oils and soothing botanical extracts plus invigorating coffee beans (yes, real coffee beans!), this body scrub rejuvenates skin, leaving it soft and radiant. And the scent is heavenly, just like hazelnut coffee.

Perfect Organics Hazelnut Coffee
Ultimate Body Scrub
8 Ounces
$24.99

Buy online at LoveHue.com

Hazelnut Coffee Ultimate Body Scrub. Photo by River Soma | THE NIBBLE.


Republic Of Tea:

Hibiscus Tea


We love the tangy flavor of hibiscus, and stayed at the Republic Of Tea pavilion at a recent trade show to taste every flavor—hot and iced. There's a lot of flavor for no calories, in Blueberry Hibiscus, Key Lime Hibiscus, Natural Hibiscus, Pineapple Lychee Hibiscus and Vanilla Apple Hibiscus. Full-leaf hibiscus teas are also available. The Natural flavor is certified kosher by OU. Read our review of this tasty bottled Margarita.

Purchase online at RepublicOfTea.com

Photo courtesy RepublicOfTea.com.

See's Candies:
Sugar-Free Dark Chocolate-Covered Almonds Or Walnuts

We like See's sugar-free candies even more than the regular line. With all the hidden sugar in our diet, we're happy to enjoy something that leaves out sugar but tastes just as good. No one will believe that the nut clusters, peanut brittle and chocolate bars aren't conventional products. (They're sweetened with maltitol and sucralose.) The chocolate bars and peanut brittle are certified kosher by KSA.

Sugar-Free Dark Chocolate Almonds
Or Walnuts (Clusters)
10.5-Ounce Box
$13.95
Sugar-Free Chocolate Bars
Four-pack, 1.5-Ounce Bars
(With Seasonal Wrapper)
$7.00
Sugar-Free Peanut Brittle
8-Ounce Box
$8.80
Photo At Top Of Page

Buy online at Sees.com


Give a gift pack of four sugar-free chocolate bars, or break them up as stocking stuffers. Photo by Katharine Pollak | THE NIBBLE.

Skinnygirl Margarita:

Elderflower Liqueur


Bethenny Frankel, one of the Real Housewives Of New York, likes cocktails but not calories. She created the Skinnygirl Margarita with 75% fewer calories—125 calories per four-ounce serving. What you get inside the frosted bottle is a ready-to-drink, all natural cocktail made of 100% blue agave tequila, lime juice and low-glycemic agave syrup. And while it's "lite," it's the best reduced-calorie Margarita we've had yet. Read our review of this tasty bottled Margarita.

Find out where to buy at SkinnyGirlCocktails.com

Photo courtesy SkinnyGirlCocktails.com.

Sweet's:
Sugar-Free Gourmet Taffy

Sweet's is our favorite taffy. Beautifully boxed for gift-giving, it is also naturally flavored. The embossed box, which is gorgeous in person, is the best price-value gift we've come across—no one would believe the gorgeous box isn't $10 instead of $4.25, the actual price.

Sugar-Free Also Available

Certified kosher by Scroll K.

Eight Ounce Taffy-Shaped Box
$4.25

Buy online at SweetCandy.com




Sweet's Old School Taffy flavors— chocolate and cinnamon, peppermint, strawberry, vanilla, are sugar free. Photo courtesy Sweet's.

Talbott Teas has a diverse selection of gourmet teas, handsomely packaged. Each blend is carefully crafted using only the finest, highest quality full-leaf tea sourced throughout India and Asia. Gift sets (shown in photo at right) are available with a full-sized tin of blended loose-leaf gourmet tea, honey straws, 1 tea filter wallet and a stainless steel gourmet tea scoop. The unisex packaging makes it a winning gift for your men tea-lovers as well as the ladies.

Talbott Teas Gourmet Tea Set
$25.00
Many Gift Options Available On
Website

Buy online at TalbottTeas.com




Give a handsome gift set to your favorite tea-lover. Photo by Katharine Pollak | THE NIBBLE.








© Copyright 2005- 2022 Lifestyle Direct, Inc. All rights reserved. Images are the copyright of their individual owners.