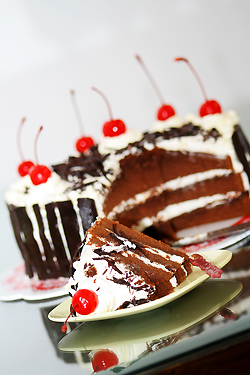 Maraschino cherries can be iffy in terms of their cloying flavor, but if you look hard, you can find gourmet varieties with the stems intact. TillenFarms.com will be introducing a gourmet maraschino cherry soon. Cake photo by Sasongko | BSP.
December 2008
Last Updated March 2012

Recipe: Black Forest Cake
An Opulent, Festive Cake For The Holidays
Page 1: Overview
This is Page 1 of a four-page article. Click on the black links below to visit other pages.
An Overview Of Black Forest Cake
The Black Forest region of southern Germany (Der Schwarzwald) is known for its sour Morello cherries and for Kirsch, or Kirschwasser, a double-distilled, clear cherry brandy made from them. It's not surprising, then, that desserts made with both the cherries and the Kirsch are part of the regional repertoire. Its German name is Schwarzwälderkirschtorte, Black Forest Cherry Torte (torte is the German word for cake).
Black Forest Cake is a chocolate layer cake, with added layers of whipped cream and Kirsch-soaked morello cherries. The cake is then decorated with more whipped cream, morello or maraschino cherries, and chocolate curls or shavings. The cake layers are also soaked in a Kirsch syrup (although brandy or rum can be used). American recipes tend to omit the spirits to make the cake more family-friendly.
The earliest version of the recipe possibly dates back to the late 16th century when chocolate was first integrated into cakes and cookies (and was extremely expensive). The first "Black Forest Cake" was probably not a conventional cake but a dessert comprising cooked cherries, cream, Kirsch and a biscuit—similar to the original berry shortcake.
The recipe that follows on the

next page

, from Carlyn Berghoff of Chicago's historic Berghoff restaurant,* cuts the overall richness by substituting the center chocolate layer with yellow cake. Morton's doesn't add liquor to the cake, but we've provided optional measurements for those who like it. We do—we think it provides authenticity for this quintessential Old World dessert. It transports us to eras past, when the thought of chocolate cake, cherries and whipped cream were the German equivalent of dancing sugarplums.




A lake in the Black Forest region of southern Germany. Photo by Yucel Tellici | SXC.
*The Berghoff Cafe, opened in 1898 to showcase the founder Herman Joseph Berghoff's acclaimed Berghoff Beer, received Chicago's first liquor license (No. 1) after Prohibition, in 1935.
Easy Black Forest Cake
If the recipe on the following page seems like too much work, make a "deconstructed" Black Forest Cake:
Take a slice of chocolate pound cake, chocolate sour cream cake or even a brownie.
Top with the Red Sour Cherry Topping from Chukar Cherries (or make your own*)
Add a generous amount of whipped cream on top or on the side
Serve with a liqueur glass (or snifter, or jigger) of Kirsch
*Cook 4 cups thawed frozen pitted cherries and 2/3 cup sugar in a large saucepan over medium heat for 2 minutes. Add 2/3 cup red wine; simmer until slightly reduced, about 4 minutes. Drain and reserve cherries; return liquid to saucepan and boil for about 8 minutes, until liquid is reduced by half. Add to cherries; cool and use to top chocolate cake.

Continue To Page Two: Black Forest Cake Recipe
Recipe © Morton's The Steakhouse. Other material © Copyright 2005- 2015 Lifestyle Direct, Inc. All rights reserved. Images are the copyright of their respective owners.