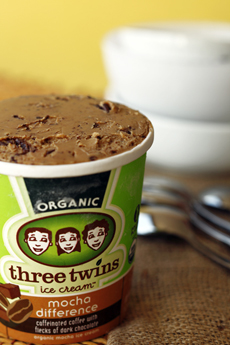 You can "mocha" difference by purchasing organic ice cream. All photography by Katharine Pollak | THE NIBBLE.

KAREN HOCHMAN is Editorial Director of THE NIBBLE.

Three Twins Ice Cream
Organic, Sustainable Superpremium Ice Cream
CAPSULE REPORT: A young man with the desire to build a sustainable business forgoes business school and plunges right in. He creates a line of organic ice cream, with all the usual blunders along the way—most notably, taking a storefront where there's no foot traffic. But the ice cream is good, people want organic products and he perseveres. Four years later, with restaurant accounts and pints in supermarkets, he's on his way. Who's the third twin in Three Twins Ice Cream? His very supportive sister-in-law. This is Page 1 of a two-page review. Click on the black links below to view the other page.
Overview
Americans are moving to more and more organic foods, and we're all for it. Anyone who has seen the documentary Food Inc. shudders every time he or she looks at conventionally produced food products. Not only are they—how to say it delicately—not exactly the cleanest, but the animals are treated horribly.
With organic products like Three Twins Ice Cream, the animals are treated well, the land is treated well and you don't ingest pesticides and hormones with every bite. Who couldn't love that?
The only problem with Three Twins Ice Cream is their tag line, "Inconceivably Delicious Ice Cream." Did anyone open a dictionary to determine that "inconceivable" means not conceivable, unimaginable, unthinkable, unbelievable? Has there ever been a food on earth that is so superior to anything else that it is unimaginably, unthinkably, unbelievably good? Ice cream is perhaps our favorite food (it ties with sushi); but if an inconceivably delicious food is ever discovered, we can't conceive that it will be in either of these categories.

Ditch the unbelievable hyperbole, guys, and stick to making fine organic ice cream.
Three Twins History
That being said, the story of Three Twins Ice Cream is quite charming.
One twin, Neal Gottlieb, is founder of Three Twins Ice Cream. After serving as a Peace Corps Volunteer in Morocco, he returned to the San Francisco Bay Area and moved in for a stay of several weeks with his twin brother, Carl and Carl's fiancé (now wife), Liz (the third "twin"). The living arrangement worked so well that Liz and Carl invited Neal to stay.

Neil planned to attend business school, then start a sustainable business. But with a tab of $110,000 to earn his MBA, Neal decided that this money could be better spent by starting a green business without the degree. And Three Twins Ice Cream began.

You can read the full story on the website; you'll find yet another bootstrapping entrepreneur working night and day to keep the doors open.

The third twin is the founder's sister-in-law, who joins the other two twins in the company logo.
Three Twins Ice Cream was certified organic in 2006. The same year it joined One Percent For The Planet (which donates 1% of profits to an organization that supports sustainable causes), picked up its first restaurant account and began selling pints to supermarkets. Now you can buy them online. But better yet, get your local retailer to stock the freezer case.
Continue To Page 2: Organic Ice Cream Flavors
© Copyright 2005-2015 Lifestyle Direct, Inc. All rights reserved. Images are the copyright of their respective owners.