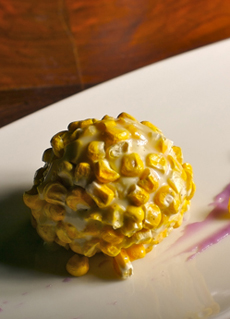 Vanilla ice cream rolled in crispy corn is a taste and a textural sensation.
CHEF RALPH PERRAZZO is founder of the Rare Concepts Group, which specializes in unique, edgy, and fun restaurants.

Crispy Corn Ice Cream Recipe
A Special Occasion, Gourmet Ice Cream Dessert


Ralph Perrazzo, an award-winning pastry chef and founder of the Rare Concepts Group, recently organized a fundraising dinner to benefit the Villalobos Animal Rescue Center, the largest rehabilitation and placement facility for abused pit balls in the world, located in California. Joining him were some of his favorite Las Vegas chefs, Rick Moonen of RM Seafood at Mandalay Bay, Joe Elevado of Social House at Treasure Island, Gene Bernardo of Nove, Barry Dankake of N9NE Steak House and Kerry Simon of Simon Restaurant & Lounge, all at the Palms Hotel and Casino.
One of the featured desserts was this stunning corn ice cream with ube purée. Ube is the Filipino word for purple yam (Dioscorea alata). It is a sweet yam with a violet-colored flesh that is made into ice cream, cake, pudding and jam, all with a beautiful, natural violet color (photo below). Here, Chef Perrazzo uses it to make a sweet dessert sauce. The freeze-dried "crispy corn" was inspired by Chef's love of Corn Puffs cereal!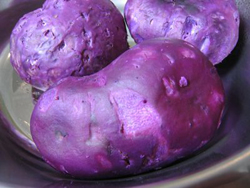 If you are fortunate enough to live near a Filipino or Asian market, you may be able to find fresh ube or frozen ube and make this stunning dessert. See the full photo at the bottom of the page.
Photo of ube by permission of
MarketManila.com. All rights reserved.
Ingredients ~ Vanilla Ice Cream
Yields 1 Quart ~ 8-12 Servings
3.2 cups heavy cream
6 egg yolks
1 cup minus 2 tablespoons sugar
Dash salt
1 vanilla bean, split and scraped
Freeze dried corn for garnish (we love the corn from Sensible Snacks)
Preparation
Bring cream to a slight simmer with vanilla beans. (Do not boil)
Temper with yolks, sugar, salt.
Cook over a slow simmer until the ice cream base coats the back of a spoon.
Place in ice bath and reserve overnight in the refrigerator.
Spin in ice cream machine per manufacturer's directions.
Ingredients ~ Ube Purée
2.5 ube potatoes, roasted
1 cup hot water
1/2 cup sweetened condensed milk
1/2 vanilla bean, split and scraped
1/2 lemon, juiced
Dash salt
Preparation
Roast ube potatoes at 400°F until tender.
Cut in half and scoop out all flesh into a food processor or blender.
Add all of the other ingredients to food processor and purée on high.
Pass through a mesh sifter and reserve for plating.
Assembly
Sauce the plate with the ube sauce.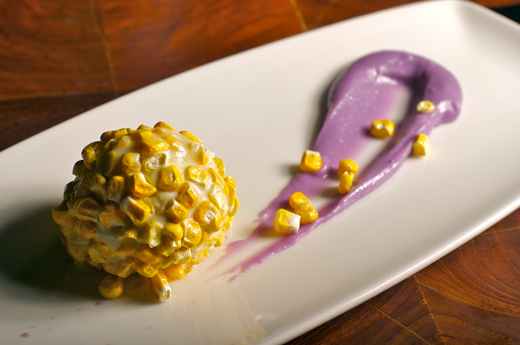 How beautiful! How delicious!
Recipe © copyright Ralph Perrazzo. Other material © copyright 2005- 2015 Lifestyle Direct, Inc. All rights reserved. Images are the copyright of their respective owners.