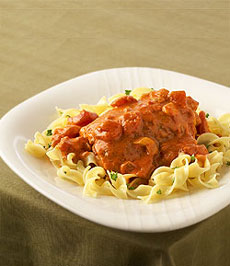 Bright red paprika and ripe tomatoes not only lend this dish vibrant color and intense flavor, but also over 500 ORAC of antioxidants per serving as well. Photos courtesy of McCormick.

Recipes: Cayenne-Cinnamon Ribs With Maple Glaze And Classic Chicken Paprika
Turning up the heat with chile peppers can help you crank up the antioxidants. Capsaicin is the powerful compound in peppers that gives chiles their heat. The hotter the pepper, the more capsaicin (and antioxidants!) you'll find. Cayenne or ground red pepper contains the most. Yet all red peppers—including chili powder and the milder paprika—are good sources of antioxidants, possessing levels ranging from paprika's 376 ORAC up to chile powder's 615 ORAC. Click here to read about all the Super Spices.
Cayenne-Cinnamon Ribs With Maple Glaze
This zesty Super Spice rub combines cinnamon, paprika and red pepper. This two-step cooking method for baby back ribs produces sweet-spicy ribs that are fall-off-the-bone tender.
Serves 8.
Ingredients

1/4 cup firmly packed brown sugar
1 tablespoon garlic powder
1 tablespoon paprika
1 teaspoon ground cinnamon
1 teaspoon crushed red pepper
1 teaspoon sea salt, finely ground
3 pounds pork baby back ribs

1/4 cup maple syrup
Preparation
Mix brown sugar and spices in small bowl. Rub spice mixture onto both sides of ribs. Place ribs in single layer in foil-lined roasting pan. Cover with foil. Bake in preheated 375°F oven 1 hour or until meat starts to pull away from bones.

OR

Preheat grill to low heat. Rub spice mixture onto both sides of ribs. Wrap ribs with 2 to 3 layers of heavy duty aluminum foil, sealing ends tightly. Grill ribs 1 hour. Remove foil.

After pre-cooking ribs (by oven or grill), preheat grill to medium heat. Brush ribs with maple syrup. Grill ribs 3-5 minutes per side or until browned.
Classic Chicken Paprika
This updated version of a classic recipe introduces you to the sweet flavor of antioxidant super spice paprika in a simple, one-dish meal.
Serves 4.
Ingredients
| | |
| --- | --- |
| | Make guacamole and other thick dips extra delicious with a generous addition of red pepper. Use paprika for mild heat or chile powder if you prefer it hot. |
Preparation
Season chicken with 1/2 teaspoon of the paprika, sea salt and pepper.
Heat oil in large nonstick skillet on medium-high heat. Add chicken; cook 3 minutes per side or until browned. Remove chicken from skillet. Set aside.
Add onion to skillet; cook and stir 3 minutes. Stir in tomatoes and remaining 2 teaspoons paprika. Bring to boil.
Return chicken to skillet. Reduce heat to low; cover and simmer 8-10 minutes or until chicken is cooked through. Stir in cream until well blended. Serve over noodles and sprinkle with chopped parsley, if desired.
Recipes and photos © 2008 McCormick. All rights reserved. Other material © Copyright 2005- 2015 Lifestyle Direct, Inc. All rights reserved.