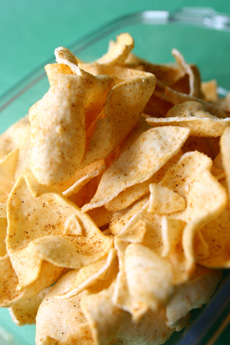 Baji's Papadums are an alternative snack to the various western-style chips. Shown, Mango Chutney.
KAREN HOCHMAN is Editorial Director of THE NIBBLE.

Baji's Papadum Chips
Indian-Style Bite-Size Snacks

EDITOR'S NOTE 2009:
Regretfully, this product is no longer manufactured.
CAPSULE REVIEW: Baji's snack papadum chips are a delightfully different snack chip. If you like a spicy tortilla chip, try the Pacific Rim version. The flavor profile is more elegant, but they go just as well with a beer, and even better with soups, salads, sandwiches and burgers. The products are all natural, with no artificial colors, flavors or preservatives.
If you've dined at an Indian restaurant, you've no doubt enjoyed papadums*; the thin South Asian wafer or flatbread, shaped into a tortilla-like round, is generally offered to customers instead of a bread basket at the beginning of the meal. Typically made from lentil, chickpea, black gram or rice flour. Papadums are typically served as an accompaniment to a meal, an appetizer or a snack and eaten topped with chutney or other dips. While restaurant-goers may only know the tortilla-size papadum, they are also made in a snack chip size.
*Alternatively spelled pappadum, papadam, pappadam, appadum, pappad and a variety of other ways.

It is the latter that Baji's uses as a point of departure in a line of flavored chips. Paul Jaggi, who called his mother "Baji," has created a line of foods in her honor. Baji cooked for a family of 12; a portion of sales is donated to charities that focus on the education and nutrition of underprivileged children in Third World countries.
In India, the papadum is often associated with the empowerment of women: microbusinesses run by women produce papadums, pickles and other snacks that provide vital, regular income with minimal financial investments.
Flavors
To make these wavy whips, Baji's uses a blend of potato starch, fava bean flour, dehydrated potatoes, palm oil, tapioca starch, isolated pea protein and salt. There's a complex mix of seasoning in each flavor. The flavors range from mild to medium spicy.

Mango Chutney delivers sweet mango and hot spice. It's the hottest of the three and the sweet-salty-hot profile makes it the most unusual.
Tangy Cilantro, the mildest, reminds us most of a classic papadum with a nice tang.
Traditional Tandoori offers the wonderful flavors of India and a nice amount of lingering heat on the finish. It you're hankering for Indian food, this is a nice substitute.
We didn't taste Creamy Yogurt Dill, but would bet it's as good as the rest of the line—and on the mild side.

Snack-size papadums also make a good "side" with soups, salads and sandwiches.
Serving Suggestions
It's easy to eat these chips by the handful from the bag, and they go great with beer. They also add spice to regular meals, and can be served:
With a variety of dips—from yogurt and chutney to spinach
and other vegetable-based dips
With plain yogurt and cottage cheese
With soups, salads, sandwiches and burgers
If you like salty snacks, spicy snacks and flavorful snacks, try Baji's. You may never have had Indian food—you may not even like Indian food. But after your second handful of these chips, you may be hooked.
BAJI'S PAPADUMS

Creamy Yogurt Dill, Mango Chutney, Tangy Cilantro, Traditional Tandoori

4-Ounce Bag
Suggested Retail Price
$2.99
12-Bag Case
Individual Flavors Or
Variety Pack
$35.99

Purchase cases online at BajisPassion.com.


Try a Variety Pack: three bags each of all four flavors.

The products are available at fine food stores nationwide.
Prices and flavor availability are verified at publication but are subject to change.
Recent Articles From Our NutriNibbles™ News Feed:
Subscribing notifies you whenever there are
new additions to the NutriNibbles™ section.

Subscribe to THE NIBBLE™ NutriNibbles™ by Email
© Copyright 2005-2015 Lifestyle Direct, Inc. All rights reserved. Images are the copyright of their respective owners.