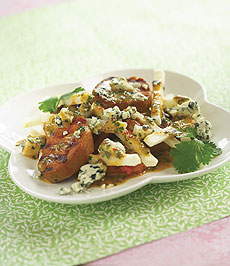 Use sweet potatoes instead of white ones to make a colorful potato salad.

Photo courtesy J.M. Smucker Company.

Recipe: Grilled Sweet Potato Salad With Jicama, Blue Cheese & Chipotle Lime Dressing
This sweet potato salad recipe was a finalist in the 2009 Crisco Grilling Hall Of Fame Contest. You can read about the contest on Page 1 of this recipe series. This is Page 9 of a 15-page article. Click on the black links below to visit other pages.
Grilled Sweet Potato Salad With Jicama, Blue Cheese & Chipotle Lime Dressing
This potato salad "of a different color" combines sweet and tangy, soft and crunchy, colorful and white. Many people think that sweet potatoes are more nutritious than white potatoes, but they are about even. Here's the difference between sweet potatoes and white potatoes, courtesy of DrMirkin.com:
7-Ounce White Potato With Skin: 220 calories, 5g protein, 51g carbs, 20mg calcium, 115mg phosphorus, 2.8mg iron, 16mg sodium, 844mg potassium, 4g fiber, .22mg thiamin, .07mg riboflavin, 3.3mg niacin, 16mg vitamin C
7-Ounce Sweet Potato With Skin: 208 calories, 3.5g protein, 49g carbs, 56mg calcium, 110mg phosphorus, 1mg iron, 20mg sodium, 693mg potassium, 5g fiber, 4350 RE vitamin A, .14mg thiamin, .13mg riboflavin, 1.2mg niacin, 49mg vitamin C.
Result: You get vitamin A plus a lot more calcium and vitamin C from a sweet potato, but a lot less iron and a bit less protein, than white potatoes. Otherwise they're pretty much equal. (By the way, while both are indigenous to the Americas, they are from different botanical families. The sweet potato is a member of the morning glory family of herbaceous vines and trees, Convolvulaceae, and the white potato is a member of the nightshade family, Solanaceae (which also includes potatoes, eggplants, tomatoes, peppers, tobacco and petunias).
Note that to get the nutrition, you've got to eat the potato skins as well as the flesh. The nutrients and fiber of many vegetables and fruits are concentrated in the skins.
Now, on to the recipe, which serves 4.
Ingredients
No-stick cooking spray
4 medium sweet potatoes
½ cup fresh squeezed lime juice
1 whole chipotle chile in adobo (canned)*
2 cloves garlic, roughly chopped
¼ cup honey
2 tablespoons cider vinegar
½ cup extra virgin olive oil
½ cup fresh cilantro leaves, tough stems removed and roughly chopped
1 jicama (about 1-½ pounds), peeled and cut into julienne strips
2 ounces blue cheese, crumbled
*If you are timid about the heat, remove the seeds before adding; if you like it spicy, add a second chipotle.
Preparation
Put sweet potatoes in a large (4-quart) pot and cover with cold water. Bring to a boil and turn down the heat to medium-low. Simmer the sweet potatoes for about 10-12 minutes, or until just cooked through, but still firm. Immerse the potatoes in cold iced water to stop the cooking. Drain and set them aside to cool.
While the sweet potatoes are cooling, make the dressing. In food processor or blender, combine the lime juice, chipotle chile, garlic, honey, vinegar and olive oil. Pulse the mixture a few times to blend completely and slightly emulsify the dressing. Add the cilantro and pulse a few more times to blend. Pour the dressing into a medium mixing bowl. Add the jicama to the dressing and toss to coat. Set aside.
When the sweet potatoes are cool, peel and slice them so that the slices are about ½ to ¾ of an inch thick. Spray grill grate with no-stick cooking spray. Heat grill to high heat. Grill the sweet potato slices for about 2 minutes on each side, or until they get nice dark grill marks on them and smell sweet and smoky.
Arrange the sweet potato slices on a serving platter. Remove the jicama from the bowl and pile it on top of the sweet potatoes. Sprinkle the crumbled blue cheese on top. Drizzle any remaining dressing on top, if desired, or reserve any remaining dressing and serve on the side with the salad.
Go To Page 10: Lani-Ono Island Chicken
Recipe copyright 2009 J.M. Smucker Company. All rights reserved. Other material © Copyright 2005- 2015 Lifestyle Direct, Inc. All rights reserved. Images are the copyright of their respective owners.