Truffles: An Overview & Glossary
Page 5: Canned & Jarred Truffles

This is Page 5 of a 12-page article. Click on the black links below to visit other pages.
Canned & Jarred Truffles
What about those cans and jars of truffles? If someone gives you a jar of them, by all means use it. But truffles quickly lose their flavor after harvesting. So, you'll pay a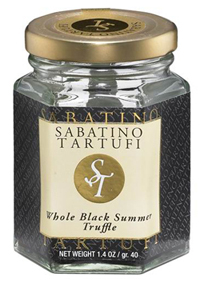 reasonable amount for something that's somewhat removed from its former self—like canned peaches. It's best to save your money and go to a top restaurant for a truffle dish during December. Consider it your holiday treat.
Summer black truffle preserved in a jar,
from SabatinoTartufi.com.
We feel the same about truffles from other parts of the world. If you've already enjoyed the glories of Périgord and Alba truffles and want to see what truffles from China and other origins taste like, consider it an investment in exploration. But if you've never had the greats, don't spend a lot of money on something that's just O.K. and may have you questioning what the fuss is about. Save up a huge amount of money and go for the real thing.
We haven't had frozen truffles so can't comment on how they hold up; our educated guess is that the fabulous aroma of fresh truffles is lost. We have very much enjoyed truffle paste, truffle butter, truffle oil and truffle salt. All brands are not equally good, so if you're not willing to risk your own money testing different varieties, try to read reviews or get recommendations from friends or others who have tried them.
Pairing Truffles And Wine
Serve black truffles with a fine St. Emilion or a Brunello. The locals in Périgord will enjoy their truffles with a good Cahors wine, but few of those wines find their way to the U.S. The wine of choice for white truffles is Barbera or the other great Nebbiolo-based wines, Barolo or Barbaresco.
Continue To Page 6: Truffle Glossary
© Copyright 2005-2013 Lifestyle Direct, Inc. All rights reserved. Images are the copyright of their respective owners.