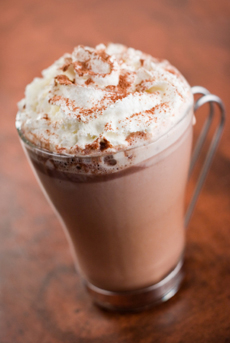 Spicy hot chocolate made European-style, with melted chocolate. Photo by Kelly Cline | IST.

Chai Hot Chocolate Recipe
Spicy Hot Chocolate Made Made With Solid Chocolate
Sure, you can buy a gourmet cocoa mix, but there's nothing like homemade hot chocolate, made Swiss style, by melting a chocolate bar. This flavored hot chocolate recipe is courtesy of Travel Chocolate, producers of organic and Fair Trade Certified chocolate bars. Learn more about their products at TravelChocolate.com.
Yields: 2 servings

Ingredients
6-8 ounces milk
1/8th teaspoon cinnamon
Pinch each of cardamom and cloves
½ of a 70% cacao 3.5-ounce (100 gram) chocolate bar
(i.e., 50 grams of chocolate), broken into pieces
1-2 teaspoons sugar (to taste—you may omit the sugar entirely, or substitute agave or an artificial sweetener for a less sugary taste)
Nutmeg to garnish (optional)
Preparation
Heat milk and spices in a medium saucepan over medium heat. When bubbles appear around the edges, add chocolate and sugar.
Whisk slowly until chocolate melts and sugar dissolves. Simmer on low heat for three minutes.
Garnish with a grind of fresh nutmeg. Serve immediately.
Cocoa-licious
| | | |
| --- | --- | --- |
| | | |
| Chocolate, Cocoa, and Confectionery Science and Technology: This 900-page text is an educational and scientific tour-de-force. Click here for more information or to purchase. | The True History of Chocolate: Anthropology with a culinary twist, delve into the history of this mouth-watering subject. Click here for more information or to purchase. | Crafting the Culture and History of French Chocolate: How a small group of French chocolatiers fight for survival against corporate giants. Click here for more information or to purchase. |
Recipe and introduction copyright Michael Recchiuti. Additional material © copyright 2005- 2015 Lifestyle Direct, Inc. All rights reserved. Photos are the copyright of their respective owners.