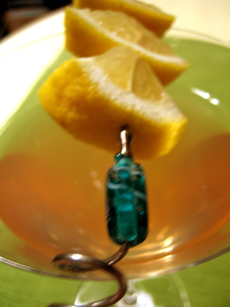 Cocktails for energy, fighting colds, better skin and better knees. All olive picks from Mum's Creations. All cocktail photos by Melody Lan.

Airforce Nutrisoda Elixirs
A True "Tonic" For What Ails You
Read our review of Airforce Nutrisoda to learn about this line of tasty fortified, carbonated fruit drinks. Each flavor in the line has a unique formulation of vitamins, minerals, herbs and amino acids targeted to a specific common need*:
Calm, Wild Berry & Citron, helps deal with everyday stress
Energize, Mandarin & Mint, helps boost energy levels
Flex, Black Cherry & Apple, helps lubricate and repair active joints
Focus, Peach & Mango, helps sharpen thinking
Immune, Tangerine & Lime, helps build up defenses
Radiant, Pomegranate & Blackberry, aims to improve skin elasticity and firmness
Slender, Pink Grapefruit& Guava, supports healthy weight management
*These statements have not been evaluated by the Food and Drug Administration. The products are not intended to diagnose, treat, cure or prevent any disease. As with all dietary supplements, if you are pregnant or nursing, or taking any medication, consult with your healthcare professional/physician before using Airforce products.
Popular right from the can, these attractive beverages are also turning up on cocktail menus as "tonics." And more than just the healthy additions, the natural fruit flavors sweetened with Splenda® (sucralose) add zero to fifteen calories to the cocktail mix, compared with up to a hundred or more for other sweet mixes.

While different bars and spas have created their own cocktails, here's a menu from Airforce Nutrisodas so you can mix your own.
Specialty Elixirs
Calm
Amethyst. One part UV Blue Raspberry Vodka and 3 parts Calm, as a highball, lowball, or martini with a twist.
Cosmonaut. Mix Skyy Berry Vodka cranberry juice and Calm, garnished with a cherry.
Tropical Tranquility. One part Midori, 1 part Bacardi, 2 parts Calm, splash of cranberry juice, splash of pineapple juice, splash of cream, served up.
Energize
Jumping Jack Splash. Jack Daniels and Energize on the rocks, garnished with mint.
Hypertonic. Absolut Mandarin and i on the rocks, garnished with an orange slice and mint.
Morejito. Two parts Belvedere Pomeranza Vodka, 1 part Cointreau, 6-8 fresh mint leaves, 2 parts Energize. Muddle mint with ice, fill glass with ice, and vodka, Cointreau and cold Energize. Garnish with whole, fresh mint leaves on the stem.

Flex
Apple Flextini. Three parts Belvedere Cytrus Vodka, 1 part Sour Apple Puckers®, 2 parts Flex. Shake vodka and Puckers with ice, strain into martini glass, fill with cold Flex.
Back Seat Lover. One part Red Passion Alizé, 1 part Cointreau, 2 parts Flex, garnished with an orange twist.
Focus
Brain Surgeon. One part Captain Morgan Rum, 1 part Peach Schnapps, 2 parts Focus, a float of 151.
Troposphere. Bacardi"O" Rum and Focus on the rocks, garnished with a pineapple segment.
Immune
Immunarita. Salt glass rim. Mix two parts gold tequila, 1 part triple sec 1 part lemonade, 1 part Immune. Shake tequila and lemonade with ice, strain into martini glass, fill with cold Immune.
Radiant

Face Lift. Sparkling wine and Radiant, served in a martini glass or champagne flute, garnished with mint or an orange twist.
Radiant Breeze. Two parts Belvedere vodka, 1 part orange juice, 1 part cranberry juice, 2 parts Radiant. Combine all ingredients in a glass over ice. Garnish with orange slice and cherry flag.

Slender

Bikinitini. Absolut Citron and Slender, served as a highball or a martini, garnished with a wedge of lime.
Skinny Dip. Bacardi Limon and Slender, served as a highball or a martini, garnished with a grapefruit segment and a mint leaf.
Of course, to get the maximum nutritional benefit from the Airforce Nutrisoda, you need to drink the entire can—not just "one part." But that's not too hard to do—it makes a great chaser!
More Cocktail Ideas
| | | |
| --- | --- | --- |
| | | |
| Cool Cocktails: The Hottest New Drinks and the Best of the Classics, by Ben Reed. London's hippest, hottest mixologist, offers a delicious range of recipes for almost 100 classic and contemporary cocktails, as well as practical advice on equipment and glasses.. Click here for more information. | Martinis, by Ben Reed. The"Crown Prince of the Cocktail Crowd" celebrates the elegance and taste of the martini. The Classic Dry Martini has led to the creation of the Cosmopolitan, the Gibson, the fruity French, and the delicate Dirty Martini. Become a martini expert. . Click here for more information. | Margaritas and Other Tequila Cocktails, by Ben Reed. There's a reason north-of-the-border folks are so passionate for this south-of-the-border creation. Learn how to make perfect margaritas and many varieties on a theme. A great gift for margarita lovers.. Click here for more information. |
© Copyright 2005-2015 Lifestyle Direct, Inc. All rights reserved. Photos are the copyright of their respective owners.