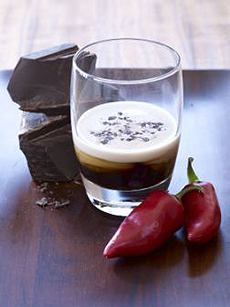 Turn up the heat this Valentine's Day by serving your date a "Hot Lips" Chocotini. All photography courtesy Van Gogh Vodka.

Chocolate Cocktail Recipes
Celebrate Valentine's Day With Chocolate You Drink
CAPSULE REPORT: Chocolate has been called the "fruit of love" by many, so it's no wonder chocolate is often given as a gift on Valentine's Day. Thought of as an aphrodisiac, chocolate contains phenylethylamine—the same chemical released in your brain when you fall in love—leading to an excited feeling of infatuation. But how about a chocolate cocktail? This Valentine's Day, your sweetie doesn't need a box of chocolates to get that rush of a crush. Serve him or her a new chocolate cocktail made with Van Gogh Dutch Chocolate Vodka and experience that lovin' feeling, shaken and stirred.
This is Page 1 of a 2-page article. Click on the black links below to view the other page.
Chocolate Cocktail Menu
In the process of trying these cocktails with Van Gogh Dutch Chocolate Vodka, we fell in love: with the vodka! If you can't imagine rich chocolate flavor infused in a vodka, you'll just have to try drinking shots of it, as we did. It's a winner. (We also love the Van Gogh Espresso vodka and quite a few other flavors they make, but that's for another story.)
Chocolate Spice Martini
Ingredients Per Cocktail

1/2 ounce chocolate vodka
2 ounces chocolate liqueur
1 ounce orange liqueur
2 ounces light cream
Dash cinnamon
Dash nutmeg
Dash ground black pepper

Preparation

Shake all ingredients in a martini shaker.
Strain into a martini glass.
Garnish with an orange twist and dash of cinnamon or a roll of shaved dark chocolate, if desired.
Hearts Afire
Ingredients Per Cocktail

2 ounces chocolate vodka
4 ounces hot chocolate
3 roasted marshmallows on small
skewer


Preparation

Pour chocolate vodka into a mug and add hot chocolate.
Garnish with toasted marshmallows on a skewer or with whipped cream.
"Hot Lips" Chocotini
This cocktail was created by Kara Newman, author of Spice & Ice: 60 Tongue Tingling Cocktails. Check out the optional garnish below—it's hot stuff!
Ingredients Per Cocktail

1/2 red chile pepper, sliced
1 ounce chocolate vodka
1 ounce Kahlua
1/2 ounce maraschino liqueur
Fresh cream
Chocolate shavings for garnish*

Preparation

In a cocktail shaker, muddle the sliced chile pepper.
Add the chocolate vodka, Kahlua and maraschino liqueur.
Shake together with ice and strain into a small martini or pousse-café glass.
Next, gently pour cream over the back of a spoon to create a "float" on the top of the drink.
Use a hand grater for a generous amount of chocolate shavings on the top of the drink.





*You can shave a quality chocolate bar with a potato peeler.
Optional Garnish: A Chocolate Chile Pepper
With a whole red chile pepper and 1 ounce melted chocolate, dip 1/2 the chile pepper into the melted chocolate.
Set on wax paper and put in refrigerator until chocolate hardens.
Cut a slit in the upper portion of the chile pepper so it will sit neatly on the rim of the glass.
Continue To Page 2: Raspberry White Chocolate Truffle & White Chocolate Martini
Return To The Article Index Above
Recipes courtesy Van Gogh Vodka. All other materials © Copyright 2005- 2015 Lifestyle Direct, Inc. All rights reserved. Images are the copyright of their respective owners.