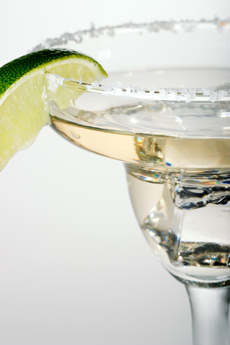 Make Margaritas with a good-quality tequila: they deserve it! Some bartenders feel that salt covers up inferior ingredients. Photo by Eugene Bochkarev | BSP.
April 2007
Last Updated August 2010

Cinco De Mayo Cocktail Recipes
Party On With Margarita & Maria
CAPSULE REPORT: This is Page 1 of a three-page article on Cinco de Mayo cocktail recipes—although the Mojito is not original to Mexico but comes from Cuba. Some of the recipes use top-quality prepared mixes, which save time during a party. Click on the black links to visit other pages.
Cinco De Mayo Overview
The holiday of Cinco De Mayo commemorates the 1862 victory of a small and poorly-equipped Mexican militia led by General Ignacio Zaragoza Seguin over the much larger French army at The Battle Of Puebla. It temporarily stopped the French invasion of the country.
Today Cinco de Mayo is primarily a regional holiday celebrated in the Mexican state of Puebla on May 5th. It is actually a bigger event in the United States than it is in Mexico, thanks to American promotional know-how, a large population of Mexican-Americans and other Americans who like Mexican food, music and a good celebration.
Margarita History
The Margarita is the most common of tequila-based cocktails. Its origin can be traced to Mexico in the late 1930s. There are a few different creators and scenarios to claim credit. One of the leading contenders used Triple Sec and lime juice, the other used Cointreau and lemon juice—so it may have been spontaneous creation. Silver or blanco tequilas are generally preferred for margaritas, though some people use the higher-quality reposados or "gold" tequilas.
You can start your celebration with these cocktail recipes courtesy of Freshies, makers of delicious, all-natural cocktail mixes that are so tasty, they can be drunk as a juice drink by guests who don't want the alcohol.
Historical note: While Ernest Hemingway may be the most famous consumer of Mojitos (he drank them at La Bodeguita del Medio in Havana) and Margaritas (in Key West); his favorite drink was the daiquiri.
Original Margarita
Ingredients
2-4 ounces 100% blue agave tequila (e.g. Cazadores, Patron)

6 ounces Freshies Margarita Mix (Fresh Lime, Peach-Mango or Strawberry-Kiwi)

Crushed ice

Lime wedge
Kosher salt for rim (table salt can be substituted)


Note that although salt is a tradition, it is often omitted with today's superior tequilas so the finer flavors of the spirit can be enjoyed)
Preparation
Mix ingredients and shake well. Pour into a glass with a salted rim.

Squeeze a wedge of fresh lime into the drink.
Mixology Tips

If you aren't using a Margarita mix, you can mix the cocktail from scratch with tequila, Triple Sec or Cointreau and fresh lime or lemon juice. Use any of the following proportions:

2:1:1, 3:2:1, 3:1:1, 1:1:1

The higher the percentage of orange liqueur (e.g., 3:2:1 or 1:1:1), the sweeter the drink. You can play with the proportions until you find the one that you prefer.

Other types of orange-flavored liqueur are sometimes used, such as Patrón Citrónge and Grand Marnier (which is often called a "grand," "royal" or "Cadillac" Margarita; Blue Curaçao yields the "blue Margarita."
© Copyright 2005-2015 Lifestyle Direct, Inc. All rights reserved. Images are the copyright of their respective owners.