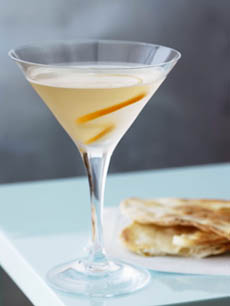 Dance into Fall with two delicious cocktails. Photography courtesy of Grey Goose.

Fall Cocktail Recipes
Compensate For Shorter Daylight With A Sparkling Pumpkin Cocktail & A Ciderless "Stormy Cider"
While you're contemplating goodies for Trick-or-Treating or a special Thanksgiving menu, how about a grown-up treat? Grey Goose vodka has mixed up two special cocktails for deserving hosts, hostesses and their guests.

Fall Cocktail Menu
Falling Leaf Fizz
There's no leaf, but plenty of fizz as pear, pumpkin and an apple chip unite in a true expression of fall.

Ingredients Per Cocktail

1 part Grey Goose La Poire (pear-
flavored vodka)
1 heaping teaspoon pumpkin
butter
Pinch of pumpkin pie spice
Dash of simple syrup
4 parts of sparkling wine
Garnish: dried apple chip

Preparation

If you like pumpkin, mix up a Falling Leaf Fizz. The beautiful orange color is perfect for Fall.
Place vodka, pumpkin butter, spice and syrup in the bottom of a Champagne glass. Stir well.
Top with sparkling wine and garnish.
Stormy Cider
The only storm will be created by guests, if you run out of Stormy Cider!

Ingredients Per Cocktail

2 part Grey Goose Original or
L'Orange
1/2 part Lillet Blanc
4-6 threads of saffron
Teaspoon of hot tap water
Dash of simple syrup
Ice
Garnish: long orange or lemon
twist

Preparation

We'd call it Sunny Cider.
Place the threads of saffron and the hot water in the bottom of a cocktail shaker. Stir well and allow to steep for a minute.
Add the rest of ingredients. Stir until the outside of the shaker is frosted and beaded with sweat.
Strain into chilled martini glass and garnish.
Recipes courtesy of Grey Goose. All other materials © copyright 2005- 2015 Lifestyle Direct, Inc. All rights reserved. Images are the copyright of their respective owners.