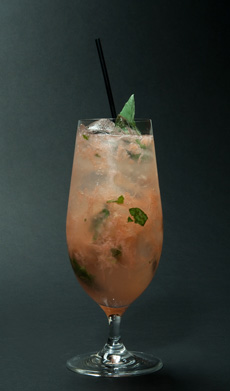 Fresh Thai basil makes this cocktail extra-refreshing. The fruit is Ruby Red grapefruit.

Recipes For Herb-Infused Cocktails
From Basil to Tarragon, These End-Of-Summer Cocktail Recipes Close Out The Season
We're holding onto the warm weather as long as we can with cocktails infused with fresh herbs. While all of the following cocktail recipes share the common fruit theme—pineapple, orange, grapefruit and peach—the herbs give them an extra-refreshing kick.
These herb-infused cocktail recipes are courtesy of two New York City mixologists, Deborah Gavito and Deborah Harris.
Angry Feminist Cocktail Recipe
The Angry Feminist Cocktail from Deborah Gavito, owner of the East Village vegetarian restaurant, Counter, uses a homemade, tarragon-infused vodka. It should be made two days in advance. We're not sure why this is an Angry Feminist; it's charming and irresistible. But call it what you want, we want a refill!
Ingredients Per Cocktail
1-1/2 ounces tarragon-infused, premium vodka
(Ms. Harris uses Rain vodka)
3/4 ounce framboise liqueur
(Ms. Harris uses Bonny Doon framboise)
1/2 ounce triple sec
1 ounce fresh-squeezed orange juice
1 thin-sliced pineapple for garnish
Ice
Preparation

In a cocktail shaker filled with ice, add all
ingredients.
Shake vigorously until outside of shaker
is beaded with sweat.
Strain into martini cocktail glass and
garnish with pineapple.

Preparation For Tarragon-Infused Vodka

Put three stalks of fresh tarragon in the
bottle of vodka.
Infuse for at least two days. You can
leave the tarragon in the vodka bottle but
do not allow any into the drinks.




This Angry Feminist is, in reality, a real charmer.
East Hampton Cocktail Recipe
Because The Hamptons are so much a part of the New York City summer scene, Deborah Harris, mixologist at seafood restaurant Harbor in TriBeCa, shakes up two commemorative cocktails. First up is the East Hampton Cocktail, heavy on the grapefruit flavor, but balanced with savory Thai basil.
Ingredients Per Cocktail

4 pieces Ruby Red grapefruit, rind
removed
6 leaves of fresh Thai basil, cut into
pieces
1/2 teaspoon sugar
3 ounces grapefruit-flavored vodka (Ms. Harris uses Finlandia Grapefruit Vodka)
Splash of grapefruit soda (Ms. Harris uses GuS)
Ice

Preparation

Muddle the grapefruit with the basil and sugar until it makes a thick pulp.
In a cocktail shaker, combine the muddled pulp with ice and vodka.
Shake hard until shaker is beaded with sweat.
Pour into a cocktail glass and top with grapefruit soda.


You don't have to travel to East Hampton to enjoy this cocktail of Ruby Red grapefruit,
Thai basil and grapefruit vodka.
Shinnecock Cocktail Recipe
The Shinnecock Cocktail is named after Shinnecock Bay in the town of Southampton, which in turn is named after the Shinnecock tribe of Native Americans that originally settled the land. It is sweetened with peaches and agave syrup instead of sugar.
Ingredients Per Cocktail

2 lemon wedges
1 sprig rosemary (fresh, not dried)
4 fresh peach slices or up to 1 ounce of fresh peach purée
1/2 tablespoon agave syrup
2 ounces of 10 Cane rum
(or other premium rum)
Ice
Splash of soda

Preparation

Muddle the lemon wedges, rosemary, and peach slices or puree until they make a pulp.
In a cocktail shaker, combine muddled
ingredients with ice, agave syrup and rum.
Shake vigorously and strain.
Top with a splash of soda.


Rosemary and peaches make this cocktail special.
Recipes courtesy Deborah Gavito and Deborah Harris. All other materials © Copyright 2005- 2015 Lifestyle Direct, Inc. All rights reserved. Images are the copyright of their respective owners.