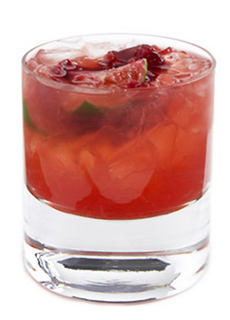 Drink a cherry pie, apple pie or pumpkin pie. Make a pie drink. Photography and recipes courtesy 1800 Tequila.

Cocktail Recipes: Drink Your Pie
Eat Your Pie & Drink It To
Overview
Pie lovers and cocktail lovers have a way to enjoy both passions: Convert the pie recipe into a drink.
The mixologists at 1800 Tequila have had fun with it, preparing pie drinks to celebrate National Pie Day, January 23rd—but you can celebrate it any day you like.
Serve pie cocktails only, or serve the drinks, full size or shots, with the corresponding pie.
On The Menu
Caramel Apple Pie

Ingredients

1 ounce silver tequila

1/2 ounce

butterscotch schnapps

1 ounce

apple cider

1 teaspoon lemon juice
Apple slice for garnish

Preparation

Combine ingredients and shake well with ice.
Strain into martini glass.
Garnish with an apple slice.





Drink this Caramel Apple Pie.
Grandma's Cherry Pie

Ingredients

1-1/2 ounces silver tequila
1/2 ounce white crème de cacao
1-1/2 ounces brandy
1/2 ounce cream
6 cherries (use frozen when
cherries are not in season)


Preparation

Muddle cherries and tequila.
Combine ingredients and shake
with ice.
Serve in a rocks glass.




Who could resist this Cherry Pie?
Pumpkin Pie-tini

Ingredients

1-1/2 ounces silver tequila
2 tablespoons pumpkin purée
1-1/2 ounces crème de cacao
1 ounce milk
Honey
Graham cracker crumbs

Preparation




Have a Pumpkin-Pie-tini with your pumpkin pie.
Recipe© copyright 1800 Tequila. All rights reserved. Other material

Related Food Videos:



For more food videos, check out The Nibble's Food Video Collection.


© Copyright 2005-
2015
Lifestyle Direct, Inc. All rights reserved. Images are the copyright of their individual owners.