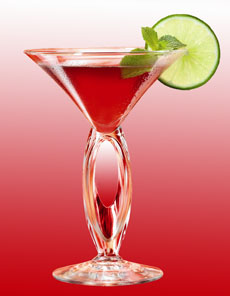 The holiday season calls for a festive drink, like this Pomegranate Mojito "Martini." Photo courtesy of Bacardi.

Recipe: Pomegranate Mojito "Martini"
A Favorite Cocktail Served In A Favorite Cocktail Glass
Hold the vodka, gin and vermouth. Here's a classic Mojito is served up in a martini glass and updated for the holidays with flavorful and colorful pomegranate juice. This recipe is courtesy of Bacardi Rum.

Also see our Cranberry Mojito recipe, served classic-style in a Collins glass with a stick of sugar cane, and other festive holiday cocktails.
Pomegranate Mojito "Martini"
Ingredients
1-1/2 ounces Bacardi Superior Rum or other white rum (blanco)*
12 fresh spearmint leaves
1/2 lime
1 ounce pomegranate juice
2 tablespoons simple syrup (or 4 teaspoons sugar)
Club soda
Ice
Lime wedge and mint sprigs for garnish
*White rum is the basic mixing rum. Feel free to use a higher grade of rum.
Preparation
Muddle spearmint leaves and lime in a shaker.
Cover with rum, pomegranate juice and simple syrup.
Shake with ice and strain into a chilled martini glass.
Top with a splash of club soda.
Garnish with lime wedge and sprigs of mint
Recipe© Bacardi Rum. All other materials © Copyright 2005- 2015 Lifestyle Direct, Inc. All rights reserved. Images are the copyright of their respective owners.