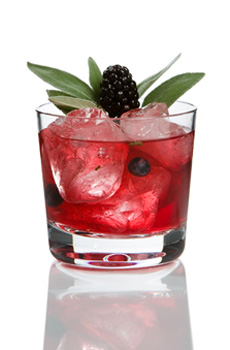 A toast to Blakberi, the new Stoli flavor.

Stolichnaya Blakberi Vodka Cocktails
Stoli's New Blackberry-Flavored Vodka & Cocktail Recipes
CAPSULE REPORT: In the U.S., icy flavored vodka is hot-hot-hot, growing at 6.4% compared to total vodka growth of 3.1% and total spirits growth of 1.3%.* and it is this impressive growth that is making the category infinitely attractive to new entrants. In the past 12 months alone, according to BevNetwork.com, more than 150 new vodkas were introduced in the U.S. and 95 were flavored vodkas. In April, Stolichnaya Blakberi was one of the debutantes—and it's delicious.
*Figures from BevNetwork.com.
Blakberi Vodka has arrived just in time for Mother's Day. Mom will love these cocktails. The recipes mix Blakberi Vodka with the sophisticated herbal flavors basil, lavender and sage; or with the ever-popular mint; or with exotic rose and Champagne. Pick one or all as your "signature cocktails" for spring and summer entertaining. Those who prefer their drinks straight can have a shot straight up with a fresh blackberry. Blackberry season runs from May through September, with the peak in June and July. (Winter berries are imported from Chile, but think locavore and eat locally in season.)
Stolichnaya was the first to introduce a flavored vodka to the U.S., with Limonaya in the mid-1970s. Stoli Vanil, Stoli Razberi, Stoli Ohranj and last year's debutante, Stoli Blueberi, are among the most popular flavored vodkas in the world† (see Stoli Blueberi cocktail recipes). This year's sibling, Blakberi, is based on product trends that show blackberry (a high-antioxidant fruit) rising in popularity in both beverages and personal care products (lotions, soaps and perfumes).
†The rest of the current portfolio includes Citros, Cranberi, Peachik and Strasberi.
B & B (Blakberi & Basil)

This cocktail recipe gives new meaning to a "B&B." It's delicious for individual cocktails and a great option for warm-weather pitcher drinks.

Ingredients Per Cocktail

1 part Stoli Blakberi

French or Italian sparkling
lemonade (in bottles at specialty food stores) or San Pellegrino Sparkling Lemon Beverage (in cans)

Fresh basil to taste

Preparation

Muddle basil with Stoli Blakberi.
Serve on rocks and top off with Italian sparkling lemonade. Garnish with additional basil leaves.


The "new" B & B, Blakberi & Basil

.
Blakberi Blues

Ingredients Per Cocktail

2 parts Stoli Blakberi
1 part Stoli Blueberi
1 part cranberry juice
1 part simple syrup
Splash of raspberry liqueur
Squeeze of lemon
Fresh sage to taste and to garnish

Preparation

Muddle sage. Combine with ingredients, shake vigorously over ice and strain into a cocktail glass.
Garnish with one blueberry, one blackberry and sage.




Singing (and drinking) the Blakberi Blues.
Blakberi Lavender Fizz


Lavender delivers heavenly aromatics with a unique flavor. Fresh lavender is only available in the warm weather, so make hay while the sun shines.

Ingredients Per Cocktail

2 parts Stoli Blakberi
1 part fresh lemon juice
1 part fresh lime juice
1 part lavender-infused agave
nectar syrup
Club soda
Fresh culinary lavender (or
organic, pesticide-free lavender)
to garnish

Preparation

Shake ingredients together over ice. Strain into a Collins glass with ice and top with soda.
Garnish with fresh lavender and a lime wheel.


Blakberi Lavender Fizz—doubly fragrant with
blackberries and lavender.
Mint Summer Night-ini

A refreshing cocktail that's perfect for spring or summer. For a regular Blakberi Martini, just substitute Blakberi for the vodka in your favorite recipe, or shake 1 part with ice and strain into a martini glass.

Ingredients Per Cocktail

2 parts Stoli Blakberi

1 part fresh cucumber juice

Splash of simple syrup

Mint leaves to taste and
for garnish

Preparation

Muddle mint leaves and shake ingredients over ice. Strain into chilled martini glass.
Garnish with sprig of mint and thin slices of cucumber.




Mint Summer Night-ini.
Recipes © Copyright Stolichnaya. Other material © Copyright 2005- 2015 Lifestyle Direct, Inc. All rights reserved. Images are the copyright of their respective owners.