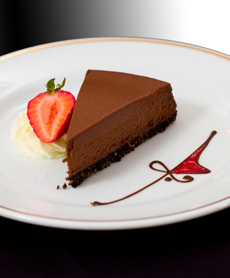 An exquisite combination: chocolate and cheesecake. Who could ask for anything more—except a fork? Photo © Trevor Allen | Dreamstime.

Chocolate Cheesecake Recipe
Prestige Milk Chocolate Cheesecake
Why decide on cheesecake versus chocolate cake: Make a chocolate cheesecake! This recipe, which uses milk chocolate rather than semisweet chocolate in the batter, comes from theco-owner of Choclatique Chocolate, Chef Ed Engoron—someone who spends his life with chocolate. As he says, "The hardest part is waiting for the cheesecake to cool down prior to cutting… so make it a day ahead." (See his gourmet chocolate confections at Choclatique.com.)
Chef Ed advises that before beginning, one should read the procedure completely and measure all ingredients. "Do not take short cuts!" he says. And use top-quality chocolate. Makes One 10-inch cheesecake.
Preparation Time: 10 Minutes
Bake Time: 1 Hour, 15 Minutes
Chill Time: 4-6 Hours; Preferably Overnight
Serves: 10
Ingredients
Cheesecake Ingredients
1 cup Oreo cookie crumbs
1 cup butter cookie crumbs
1/4 cup semi-sweet chocolate mini chips
1/2 cup unsalted butter, melted
3 pounds (6 eight-ounce packages) cream cheese, softened
2 cups sugar
6 eggs
1 cup heavy cream
1/2 cup flour
1/2 teaspoon salt
1 teaspoon vanilla (read our vanilla article)
8 ounces milk chocolate chips or disks, melted
Cheesecake Garnishes
You can further your creativity by choice of garnishes for the cheesecake. From a simple berry and whipped cream garnish (as shown in the photo at the top of the page) to an elaborate chocolate fantasy with chocolate sauce squiggles across the plate and chocolate curls on top. Here are some options:
Whipped cream (try piping it in a pastry
bag with a star tip)
Fresh blackberries, raspberries and/or
strawberries
Fresh mint sprigs
Raspberry sauce (recipe below)
Chocolate curls
Chocolate sauce or syrup
Powdered sugar (in shaker)
Cocoa powder (in shaker)


Put chocolate sauce or syrup in a
squeeze bottle and drizzle designs
across the bare plate.
Raspberry sauce is a popular accompaniment to any cheesecake. You can substitute frozen raspberries, but use fresh whenever possible. This recipe uses no added sugar, so it adds minimal calories to the already laden cheesecake.

2 cups fresh raspberries, puréed
1 lemon, juiced
1/4 cup Grand Marnier or other
orange liqueur

Combine ingredients in a bowl or pitcher and allow to rest for 2 hours.

You can drizzle raspberry sauce across the cake for a sophisticated look, or go for maximum tartness by pouring more. Photo © Corin Hodder | Dreamstime.
Cheesecake Preparation
Preheat the oven to 350°F.
Combine Oreo and butter cookie crumbs, semi-sweet chocolate mini chips and butter. Mix well. Press mixture into a 10-inch springform pan. Set aside.
In a food processor with the metal blade, mix the cream cheese until smooth. Add the sugar and blend. Add the eggs one at a time to thoroughly incorporate into the cheese mixture; then add heavy cream and blend.
Add the flour, salt and vanilla, and blend until smooth.
In a steady stream, pour in the melted milk chocolate. Mix.
Pour into the prepared pan. Bake for 1 hour and 15 minutes or until the cake is set. Remove from the oven and loosen the sides from the pan with a sharp, thin knife. This will prevent the cake from cracking down the center.
Completely cool the cake before garnishing and cutting.
Recipe © Copyright Choclatique Inc. All other materials © Copyright 2005- 2015 Lifestyle Direct, Inc. All rights reserved. Images are the copyright of their respective owners.