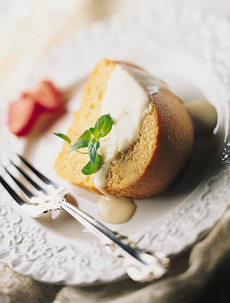 Pound cake is served with a sauce, English-style.

Recipe: Egg Nog Pound Cake
A Christmas & New Years Holiday Treat
Here's a quick and easy pound cake to whip up and bring to friends (tie a red ribbon around it). While Americans like their pound cake with a scoop of ice cream, the British prefer a sauce. If you're serving this to adults, replace the vanilla extract in the sauce with rum or brandy...and give the kids some ice cream. This recipe is courtesy of the Wisconsin Milk Marketing Board.
Ingredients
Pound Cake
1-1/4 cups eggnog
3 large eggs
1 package (1 pound, 2-1/4 ounces) yellow cake mix
1/4 cup butter (removed from refrigerator 30 minutes before use)
2 teaspoons nutmeg, ground
1 teaspoon vanilla extract
(All vanilla extracts are not the same! See our article on vanilla.)
Pouring Sauce
4 large eggs
3 tablespoons sugar
1-1/4 cups milk
1/2 cup whipping cream
1/8 teaspoon salt
1 teaspoon vanilla extract
(OR 2 tablespoons rum or brandy)
Preparation
Pound Cake
Preheat oven to 350°F.
Combine eggnog, eggs, cake mix, butter, nutmeg and vanilla in large mixing bowl. Beat with electric mixer on low to blend ingredients. Beat on medium for 2 minutes.
Spoon into a greased-and-floured fluted tube pan and bake for 40 to 45 minutes.
Remove from oven; cool in pan on wire rack for 10 minutes. Carefully invert over cooling rack and complete cooling.
To serve, slice and serve with Pouring Sauce.
Pouring Sauce
Beat together egg yolks and sugar in small bowl with electric mixer until the color of the yolks has lightened (2 to 3 minutes). Set aside.
Whisk together milk and whipping cream in heavy saucepan over medium heat; bring to a boil. Gradually whisk boiling mixture into beaten yolks.
Return mixture to saucepan and cook over medium heat, whisking constantly, until mixture coats a spoon. Do not let boil.
Whisk in salt and vanilla. Cool completely. Serve sauce with cake slices.
For garnish ideas, see our Garnish Glamour article.
Recipe © Wisconsin Milk Marketing Board. Other material © Copyright 2005- 2015 Lifestyle Direct, Inc. All rights reserved. Images are the copyright of their respective owners.