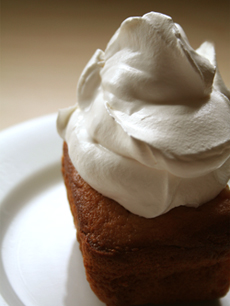 Pound cake with a twist. Photo by Pup | Dreamstime.

Peanut Butter Pound Cake Recipe
Peanut Butter + Pound Cake = Exciting New Dessert

Make a buttery pound cake even more moist and special by adding peanut butter. You can serve it with whipped cream or ice cream: vanilla, chocolate or peanut butter!
Ingredients
1-1/4 cups butter
2 cups granulated sugar
6 eggs
1/2 cup creamy peanut butter
2 cups all-purpose flour
1/4 cup finely-chopped roasted peanuts
Preparation
Preheat oven to 350°F.
Cream the butter and sugar together; then beat until light and fluffy.
Add the eggs one at a time, beating well after each addition.
Blend in the peanut butter, then the flour. Pour the batter into two lightly greased 9x5-inch loaf pans and place into oven.
After about 15 minutes of baking, sprinkle the chopped peanuts onto the batter to create a crunchy topping.
Bake for a total of 50 to 60 minutes, or until the centers test done with a toothpick or cake tester. Makes 36 servings.

Recipe © 2008 Virginia-Carolina Peanut Promotions. Other material © Copyright 2005- 2015 Lifestyle Direct, Inc. All rights reserved. Images are the copyright of their respective owners.