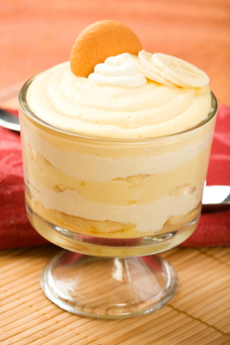 Banana pudding is not only great comfort food; it can be a festive dessert, as well. Photo by M. Sheldrake | IST.

A Luscious Recipe For Homemade Banana Pudding
Yes, It Has Nilla Wafers, Too

This is the best banana pudding we've had. Sure, this recipe, developed by a pastry chef, takes a few more steps than making instant vanilla pudding and tossing in bananas and Nilla wafers. But it's more than worth it!

We discovered the recipe at Virgil's Real Barbecue, a soul-satisfying restaurant in New York City and at the Atlantis Resort and Hotel on Paradise Island, Bahamas
For The Banana Caramel
Serves 10
Ingredients
2 peeled bananas
3.25 ounces white sugar
1 tablespoon banana liqueur
1/4 teaspoon pure vanilla extract
1 ounce light Karo syrup
3 ounces white sugar pinch
6-1/2 ounces heavy cream
Preparation
Purée the bananas in food processor. Add the first sugar amount.
Place the bananas, Karo syrup, remaining sugar, banana liqueur and the vanilla extract in a small saucepan on medium heat. Cook until the sugar dissolves, stirring as needed.
Add in the heavy cream. Bring to a boil. Remove and transfer to a storage container and refrigerate uncovered.
For The Pastry Cream
Ingredients
9 ounces milk
2-1/4 ounces white sugar
1 ounce all purpose flour
2 egg yolks
1/2 teaspoon pure vanilla extract
Pinch salt
Preparation
Place all ingredients in a double boiler on medium heat. Whisk continuously until the mixture has fully thickened.
Transfer to a storage container and place in refrigerator.
For The Banana Pudding
Ingredients

10 ounces heavy cream
3 ounces banana caramel (recipe
above)
8 ounces pastry cream (recipe above)
2 ounces white sugar
1/2 teaspoon vanilla extract
1/2 ounce banana liqueur
4 ounces vanilla wafers
12 ounces peeled bananas
Garnish: whipped cream or crème
fraîche, plus burnt caramel sauce




While many people adore Nilla wafers, others dismiss them as "kid stuff," while others don't eat HFCS or preservatives. One of our team bakes her own Nilla-style wafers (vanilla cookies) from scratch to use in this recipe.
Preparation
Bring the banana caramel and banana pudding to room temperature.
Slice the bananas on the bias, about ½ inch thick.
Whip the heavy cream to stiff peaks.
In a separate bowl, mix the banana caramel, pastry cream, sugar, banana liqueur and vanilla extract. Fold the two mixtures together.
Add 1/3 of the banana pudding to a serving bowl (or apportion among individual dishes, if you prefer to serve that way). Add half the vanilla wafers. Add 1/3 more of the banana pudding. Add the bananas between the layers. Add the other half of the vanilla wafers. Add the final 1/3 of pudding.
Refrigerate for a few hours or overnight.
Prior to serving, garnish. Top with some crumbled vanilla wafers (or if you prefer, you can rim the bowl with whole wafers). Add dollops of crème fraîche and a drizzle of burnt caramel sauce (recipe).



Related Food Videos:



For more food videos, check out The Nibble's Food Video Collection.


This recipe © Copyright Virgil's Real Barbecue. Additional material © Copyright 2005- 2015 Lifestyle Direct, Inc. All rights reserved. Images are the copyright of their respective owners.