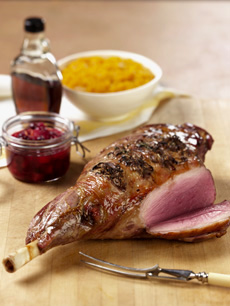 What a feast! A leg of lamb, butternut squash and cranberry chutney. Photo courtesy of Meat And Livestock Australia.

Maple-Glazed Leg Of Lamb Recipe
With Squash Purée And Cranberry-Pear Chutney
A wonderful fall and winter dish, this recipe brings in the season's favorite flavors into a delicious "comfort food" dinner.
Ingredients
Lamb
1 lamb leg, bone in
4 shallots, sliced
4 sprigs thyme
¾ cup pure maple syrup
¼ cup fresh-squeezed lemon juice
1 tablespoon balsamic vinegar
Pear and Cranberry Chutney
2 spring onions, sliced
3 pears, peeled and diced
¼ cup brown sugar
½ cup cranberries
½ cup cranberry juice
3 tablespoons red wine vinegar
1 cinnamon stick
2 tablespoons coarsely grated orange zest
Squash Purée
2 pounds kabucha or butternut squash, peeled and diced
1/3-1/2 cup buttermilk
1/2 teaspoon nutmeg
Butter, optional
Freshly ground pepper, to taste
Preparation
Trim lamb of visible fat and cut 4 deep slashes down the flesh side. Divide shallots and thyme into the slashes.

Combine maple syrup, lemon juice and balsamic vinegar. Brush half over the lamb and into the slashes. Reserve remaining mixture for basting. Allow flavors to infuse for 2-3 hours or overnight.
To prepare the pear and cranberry chutney, combine all ingredients in large saucepan. Bring to a boil, reduce heat and simmer until mixture thickens, about 15-20 minutes. This can be prepared the day before and served warm or cold with the lamb.
While bringing the lamb to room temperature, preheat oven to 350ºF. Place lamb in a roasting pan and cook for 1 hour 45 minutes or until internal temperature reaches 130º-135ºF for medium rare. Baste with reserved marinade 3-4 times during cooking. Transfer to a warm dish, cover with foil and allow to stand 10-15 minutes before slicing.
When lamb is nearly cooked, prepare the purée. Place diced squash in pan of cold, salted water. Bring to a boil and heat until tender. Drain and mash, season to taste with pepper, nutmeg and (optional) butter.
To serve, carve lamb and arrange on a warmed platter with chutney and purée. If desired, drizzle lamb with additional maple syrup and lemon juice. Serves 8.
Learn about Australian lamb at Australian-Lamb.com.
Recipes © Meat And Livestock Of Australia. Additional material © Copyright 2005- 2015 Lifestyle Direct, Inc. All rights reserved. Photos are copyright of their respective owners