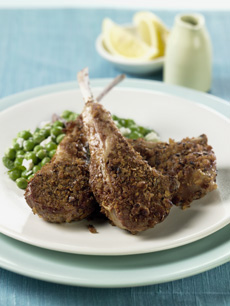 Porcini-crusted rib lamb chops with a salad of minted fresh spring peas. Recipe courtesy of the Australian lamb council.

Porcini-Crusted Lamb Chops
With Fresh Pea, Mint & Feta Salad
Here's a recipe with a Greek spin that takes advantage of the fresh peas of spring. You can make it year-round with frozen peas, but the fresh peas from your greengrocer are very special. Serve the lamb chops and pea salad with additional lemon and a pitcher of olive oil on the side.
Ingredients
Lamb
12 lamb rib chops
Extra virgin olive oil
¼ cup dried, sliced porcini or preferred dried mushrooms
2 leaves fresh basil, torn
½ cup cubed crusty bread
Salt and freshly ground pepper, to taste
Pea Salad
1½ cups fresh-shelled (or frozen) peas
3 tablespoons crumbled feta cheese
½ cup fresh mint leaves, torn
1 lemon
Preparation
Brush the chops generously with olive oil and salt and pepper to taste. Place the dried mushrooms, basil and bread in a food processor (or clean coffee grinder) and process to a fine crumb. Transfer to a plate or bowl and press the lamb firmly into the crumb to form a crust. Cover and refrigerate 30 minutes (or overnight) to set crust.
Heat enough oil in a non-stick pan to cover the base. Sauté the chops, a few at a time, over a medium-high heat until they are golden brown and medium rare, about 10 minutes total (or until cooked as desired). To test, press gently with your index finger. The meat should be firm but springy. Keep warm in a low oven.
Prepare the pea salad while the lamb is cooking. Add the peas to pan of boiling, salted water and cook for 30–40 seconds. Drain, rinse with cold water and transfer to a bowl. Add feta cheese, mint leaves, a squeeze of lemon and 1 tablespoon of olive oil. Toss well.
Serves 4.
Recipes © Meat And Livestock Of Australia. Additional material © Copyright 2005- 2015 Lifestyle Direct, Inc. All rights reserved. Photos are copyright of their respective owners