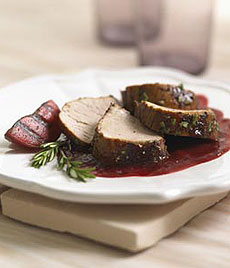 Pork tenderloin gets a summy plum treatment. Photography courtesy California Tree Fruit Agreement.

Plum Recipes
Page 2: Pork Tenderloin With Rosemary-Plum Coulis
This is Page 2 of a 3-page article. Click the black links below to view the other pages. For more stone fruit recipes, check out our summer peaches article.
On The Menu
Pork Tenderloin With Rosemary-Plum Coulis
Turn your meat into a summer treat with a sweet and savory plum sauce. Recipe yields 6 servings.
Ingredients
1/4 cup balsamic vinegar
2 tablespoons extra-virgin olive oil
2 tablespoons chopped fresh rosemary
3/4 teaspoon salt
1/2 teaspoon pepper
3 cloves garlic, minced
2 pounds boneless pork tenderloin
1-1/2 pounds plums, pitted and cubed
6 tablespoons white wine
1-1/2 tablespoons sugar
1 tablespoon chopped fresh rosemary
Salt and freshly ground pepper to taste
Preparation
Place balsamic vinegar, oil, rosemary, salt, pepper, garlic and pork in a large resealable plastic bag. Seal and refrigerate for 12 to 24 hours to marinate.
To prepare coulis, puree plums in a blender or food processor. Press mixture through a fine mesh sieve to remove all skins and solids.
Place plum puree in a small saucepan with wine and sugar; simmer over low heat for 10 minutes or until slightly thickened, then stir in rosemary. Let cool.
Grill pork over medium heat until it reaches an internal temperature of 145°F. Let rest for 5 minutes then cut into 1/4-inch thick diagonal slices.
Pour plum coulis on a platter and top with sliced pork. Garnish with additional fresh rosemary and grilled plum slices, if desired.
Go To Page 3: Sour Plum Crumble
Recipes courtesy California Tree Fruit Agreement. All other materials © copyright 2005- 2015 Lifestyle Direct, Inc. All rights reserved. Images are the copyright of their respective owners.