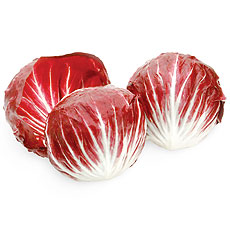 Radicchio di Chiogga

, the most commonly found variety. All photography courtesy
Royal Rose Radicchio

.

Radicchio Recipes
Make A Meal Of "Italian Chicory"
CAPSULE REPORT: Radicchio, also known as "Italian Chicory," is a maroon leaf vegetable with a pleasingly bitter taste. Commonly used in salads and Italian dishes such as risotto, it has gained popularity in the U.S. in recent years (McDonald's even uses it in their salads). Here, we present six recipes, courtesy of Royal Rose Radicchio, for a multi-course meal of tasty, creative radicchio recipes.
This is Page 1 of a five-page article. Click on the black links below to view the other pages.
On The Menu:
Page 1: Radicchio Overview
Page 3: First Course ~ Cheese Trio & Radicchio Pizza
Page 4: Pasta Course ~ Mushroom Risotto In Radicchio Wrap With Balsamic
Syrup
Page 5: Main Course ~ Maple Cured Squab Breast With Braised Lentils &
Radicchio
Page 6: Salad Course ~ Mediterranean Fig & Radicchio Salad
Overview
| | |
| --- | --- |
| Radicchio is an Italian leaf chicory. There are a handful of different varieties all named after the regions in Italy in which they're grown. The most common one in the U.S. is the Radicchio di Chiogga, a round, tightly packed head of dark maroon leaves with thick white veins. It has a bitter taste that mellows when grilled or cooked. Available year-round, radicchio is quite nutritious. A one-cup serving has only 9.2 calories. It is high in magnesium, potassium, and vitamin A. | Radicchio di Treviso resembles enfives more than cabbage. |
When buying radicchio, pay attention to size. A fresh radicchio head should be about the size of a grapefruit. It you find one with a small, drier head, it likely means that it is older and the outer leaves have been pulled off to keep it looking good. Some shopping tips include:
Look for dark red to purple leaves with small white veins.
Select tight, firm radicchio heads that feel heavy for their size.
Avoid very small heads (less than 1/2 pound)–they're old.
Avoid heads that are pointed, misshapen or ones with loose leaves.
Continue To Page 2: Hors d'Oeuvre ~ Bruschetta With Radicchio di Treviso Tapenade
Recipe courtesy Royal Rose Radicchio. All other content © copyright 2005- 2015 Lifestyle Direct, Inc. All rights reserved. Images are the copyright of their respective owners.