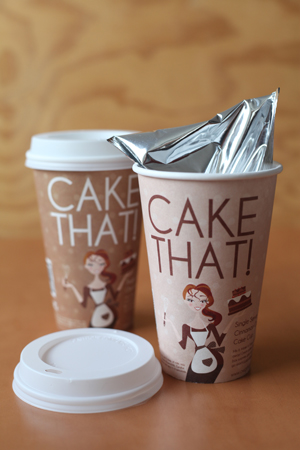 Unbelievable but true: chocolate (or caramel) cake in 90 sections. Photo by Elvira Kalviste | THE NIBBLE.
WHAT IT IS: Cake in a cup. Mix with water, microwave and voilà!
WHY IT'S DIFFERENT: Well, how many almost-instant cakes in a cup have you come across?
WHY WE LOVE IT: A cake fix is always at hand.
WHERE TO BUY IT: OWGShopOnline.com.
Cake That! Cake In A Cup:
Instant Gratification


"Go ahead, cake my day," we say to Cake That! And it does, in just 90 seconds.
The single-serve chocolate cake-in-a-cup simply requests that you add milk and microwave.
You won't believe the results: really good chocolate cake ready to be eaten as is, or topped with some ice cream.
You cook it and serve it in the cup, then toss. It couldn't be easier.*
This little masterpiece, launched this year, is a great party favor or stocking stuffer, was created by De'Anna Sullivan, who made a midlife career change and launched Old World Gourmet. She now sells more than 50 products, from frozen wine mixes to snacks like cracker mixes.
Cake That! is available in two flavors, Chocolate Cake and Caramel Cake. We personally prefer the chocolate flavor. The caramel variety has no real caramel taste; it has a pleasant cinnamon flavor, but if you're looking for "caramel," you may be disappointed.
At $4.95 a cup, Cake That! may be a pricey cake fix, but it's the most convenient one.
Don't take our word for it: Send for your own!
— Karen Hochman
*The ingredients are similar to other cake mixes: confectioners sugar, bleached wheat flour, high fat cocoa processed with alkali, chocolate chips (sugar, unsweetened chocolate (cocoa butter, soya lecithin as an emulsifier), vanilla extract, canola oil, caramel color, egg yolks, egg whites, sodium acid pyrophosphate, emulsifier (distilled mono and diglycerides, ascorbic acid, citric acid, salt sodium bicarbonate, dextrose, modified food starch, xanthan gum, natural flavor, contains sulfiting agents, blend may contain up to 35 ppm, sulfite. Allergens: wheat, milk, soybean, egg.