Top to bottom clockwise: Salted Pistachios, Chocolate Toffee Pistachios, Pistachio Berry Mix and Hot Onion-Garlic Pistachios. Photo by Melody Lan.

WHAT IT IS: Gourmet seasoned pistachio nuts in eight savory flavors and two sweet varieties.
WHY IT'S DIFFERENT: The U.S. Fancy (highest grade) nuts in gourmet flavors are delicious, and the packaging choices are perfect: seal-top bags for us, nice tins for gift-giving (but the Savory Sampler with all 10 flavors is a must).
WHY WE LOVE IT: We have never had pistachios this fresh-tasting that were also so naturally-flavored. We love every one of the choices and the fact that shelled kernels are available for cooking and baking.
PURCHASE AT: SantaBarbaraPistachios.com.


Santa Barbara Pistachio Co.:
Nuts For Pistachios

CAPSULE REPORT: One could celebrate each of the 12 days of Christmas with a different flavor of pistachios from Santa Barbara Pistachio Company and revel in what fresh, lovely nuts these are—plain or flavored. One also could celebrate Chanukah, because the products are kosher. But, as festive as they are for parties and special occasions, these nuts are a treat and a healthy snack to be enjoyed every day of the year.

People who don't like to trifle with the shells (or their dental work) can buy the kernels shelled. While most of the eight special flavors are savory—like Chile-Lemon, Hickory-Smoked, Onion-Garlic and Red Hot Habañero—the Pistachio Berry Mix and Chocolate Toffee Pistachios hit the [sweet] spot.

To read the full review below, click here. If your e-mail client does not support anchor links that jump to text above or below (e.g. AOL), please scroll down.
For reviews of more of our favorite snack products, click here.
For the table of contents of the August issue of THE NIBBLE online magazine, plus the back issues archive and our most popular articles, click here.
All of the Top Pick Of The Week newsletters are permanently archived on TheNibble.com, in chronological order and by product category.
Plan A Party
| | | |
| --- | --- | --- |
| | | |
| In Style Parties (The Complete Guide to Easy, Elegant Entertaining). The editors of InStyle magazine give the scoop on stylish entertaining, from Super Bowl® parties to showers to birthdays and Thanksgiving. With novel ideas for invitations and decor, over-the-top concepts and affordable substitutes. Click here for more information or to purchase. | Entertaining, by Donna Hay. This book gets 5 stars for its chic yet easy-to-make recipes, pairing interesting foods and rich flavors. The beautiful photographs are inspiring to enthusiastic cooks as well as those who need a little "push" to get ready for guests. All the basics you'll need for any culinary occasion. Click here for more information or to purchase. | Diva Cooking: Unashamedly Glamorous Party Food, by Victoria Blashford-Snell and Jennifer Joyce Toussaint. Another 5-star favorite with fabulous recipes, whether you want to serve tapas-style dishes or a five-course meal. Many recipes can be made fully or partially ahead, which allows the host/hostess more time to spend with guests. Click here for more information or to purchase. |
Nuts For Pistachios: Santa Barbara Pistachio Company
Pistachio-lovers rejoice! Hosts and hostesses rejoice! Gift-givers rejoice! Santa Barbara Pistachio Company has evolved the little nut we've long taken for granted and turned it into a gourmet delight. It's been given a grand makeover—in 8 different bold, savory flavors, a chocolate-toffee-coated candy and a dried cherry, cranberry and raisin snack mix. The entire group has been certified kosher. Who could ask for anything more—except an endless supply.
What Makes These Pistachios Special
Prior to the overthrow of the Shah of Iran in 1979, there was no pistachio industry in the U.S. A series of political events ensued, beginning with the fundamentalist Islamic revolution of the Ayatollah Khomeini that ousted Shah Mohammed Reza Pahlavi; followed by the Iran Hostage Crisis, in which the U.S. Embassy in Tehran was stormed and 66 hostages were taken. This led to a U.S. trade embargo against Iran. Since much of the pistachios eaten by Americans were imported from Iran, California farmers saw the opportunity to plant the crop. A better pistachio resulted, since the U.S. has the benefit of more modern farming methods. When there are delays in processing the harvested nuts, the white shells begin to stain and blemish, which is why pistachios from the Middle East were often dyed a cover-up red. (Later, pistachios were dyed red to stand out in vending machines; today, some pistachios are still dyed red for marketing purposes.)
The Santa Barbara Pistachio Company grows its pistachios in the hills of the Sierra Madre Range in California's Santa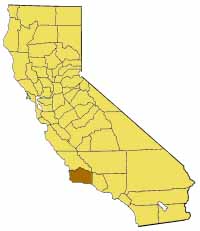 Barbara County. The high-desert climate of sunny days and cool, clear nights is almost identical to the pistachio's native climate in the Middle East. An artisan enterprise, the Zannon family controls every phase of pistachio production, from planting, farming and harvesting to flavoring, hot air-drying and hand-packaging. The crop is grown naturally, without pesticides or fungicides; and all-natural ingredients are used to process and flavor the nuts.
The Zannons have developed a special process for roasting and flavoring the nuts:
The pistachios are allowed to ripen in their shells before they are harvested, in October. They open on the tree. When the hull splits, it means the nuts are ready for harvest: a tree-ripened nut is a tastier nut. (The other option is to machine-open the nuts.)
They then go to the processing plant on the family farm, are hulled, dried, hand-sorted by grade and put into refrigerated storage.
Both shelled and unshelled nuts are brined to infuse salt and the specialty flavors. The Zannons don't believe in oven-roasting, preferring to hot-air dry the nuts to retains more of the nuts' flavors, colors and nutritional value.
All in all, it's a delicate operation, with each day's temperature and humidity taken into consideration. But they've obviously mastered the elements, because these nuts taste terrific!
Many commercial nut producers flame-roast the nuts at a high temperature and then spray on flavorings. While efficient and economical, this often sacrifices the nut's natural flavors. You'll taste the difference: Santa Barbara pistachios are beautiful, meaty nuts with intense flavors in the seasoned varieties, and sweet meats in the unflavored ones. They are the best pistachios we've ever tasted. They are roasted no more than a week or two before they're shipped—another reason they taste so fresh.
Nifty Nuts
Because the flavors are infused, there's no external evidence of seasonings, nothing to end up on your hands. All the nuts look gracefully white in the shell or fetchingly green with purple accents in kernel form, as in the photo below. The tastes are absolutely true to their flavor profiles, achieving the perfect balance of pistachio and accent flavor; and there's no paucity of choice:
For Those Who Like It Hot

Chile-Hickory
Chile-Lemon*
Hot Onion-Garlic
Red Hot Habañero

These feisty flavors are all terrific and beg to be enjoyed with a cold beer.

For A More Delicate Touch

Crushed Garlic*
Hickory Smoked*
Lemon Zing*
Onion-Garlic Roast
No Salt*
Salted*

*Available in shelled kernels as well as in-shell


Most flavors can be purchased as kernels, which
are perfect for cooking and garnishing.
Photo by Melody Lan.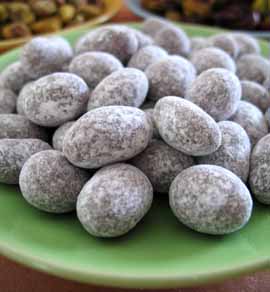 For The Sweet-Tooth
There are two products for sweet-snackers.
Chocolate Toffee Pistachios: Pistachio kernels enrobed in crunchy toffee and sealed with milk chocolate and powdered sugar. More of a candy than a nut experience, but we're not complaining (photo at right).
Pistachio Berry Mix: A blend of salted pistachio kernels, dried Rainier cherries, dried cranberries and golden raisins. While there are lots of nuts, the top note is more fruity than nutty. This tasty snack also can be used as a topping for yogurt, pudding, ice cream, cereal, in salads or as a pretty plate garnish (photo at top of page).
Beyond Snacking

Baguette with brie and pistachios. Warm the brie, spread on the bread and top with chopped pistachios. Photo courtesy of California Pistachio Commission, Pistachios.org.

One could snack into eternity on pistachios, but they have a long history as a cooking nut: in breads, muffins, cakes and cookies; in stuffings and sauces; in appetizers; in meatballs and meatloafs; and much more. You can substitute pistachios for pecans and hazelnuts in virtually any recipe.

Sprinkle them onto green salads and fruit salads. One of our favorites: a frisée salad with blue cheese, fan-sliced pear or apple and pistachios. Sprinkle chopped pistachios into the center of a bowl of tomato soup, or mix coarsely chopped nuts into sides like mashed potatoes or cole slaw for a new twist.
Chop them to make hors d'oeuvres more special—top brie or goat cheese with chopped pistachios as shown at the left. Decorate a cheese plate with a handful of pistachio kernels (or the Pistachio Berry Mix).

Visit your favorite online recipe site for hundreds of recipes using pistachios. The Santa Barbara Pistachio Company website has recipes; the California Pistachio Commission has dozens, including Apricot Pistachio Stuffing, Salmon with California Pistachio and Green Bean Salsa, Pistachio Potato Salad and Savory Pistachio Meatballs. You can start with the three recipes we've selected below, and get their wonderful free gourmet cookbook.
Recipes
While the temptation was to provide recipes for our favorite biscotti, pistachio-marzipan tarts, cannoli and pistachio ice cream, we decided to present the savory side of cooking with pistachios.


Pasta Party Salad

Ingredients

6 ounces rigatoni, shells or other pasta
shapes (2 cups dry)
1/2 cup nonfat mayonnaise
1/2 cup nonfat milk
2 tablespoons tarragon or white wine vinegar
2 to 3 medium garlic cloves,
finely minced
1/2 cup chopped pistachio kernels
1 bunch fresh basil
3 medium (6 ounces each) bell peppers, preferably two contrasting colors

Directions

Drop pasta into 2 quarts boiling water, cover and return to boil. Boil gently 7 to 8 minutes or until tender. Drain and rinse with cold water to cool. Mix mayonnaise, milk, vinegar and garlic in a medium bowl. Add pasta and toss lightly to blend. Chill until ready to serve.

Roast peppers on grill or under broiler. To grill, place whole peppers on the grill over medium coals. Grill, turning as needed, for 15 minutes or until skin is blackened. If broiling, place peppers in shallow pan and broil 3 inches from heat, turning as needed, for 15 to 25 minutes or until skin is blackened. While hot, place grilled or roasted peppers in plastic bag and allow to steam for 15 minutes. Peel, stem, seed and cut in thick slices.

Remove basil leaves from stems, reserving 6 to 8 sprigs for garnish. Stack remaining leaves and slice crosswise in narrow strips. Just before serving, add 1/2 cup basil strips and pistachios (reserve 2 tablespoons) to pasta; stir to mix. Spoon pasta onto serving platter; surround with peppers and reserved basil sprigs. Sprinkle with remaining pistachios. Serves 4.



Pistachio-Stuffed Mushrooms

Ingredients

20 medium mushroom caps
3 tablespoons minced onion
1/2 cup butter or margarine, divided
1/3 cup dry bread crumbs
1/4 cup pistachio kernels, chopped
2 tablespoons chopped parsley
1/4 teaspoon marjoram, crushed
1/4 teaspoon salt





Directions

Remove stems from mushroom caps; finely chop stems.

Sauté stems and onion in 1/4 cup butter until tender. Add bread crumbs, pistachios, parsley, marjoram and salt. Mix well. Spoon stuffing into mushroom caps.

Place on baking sheet; drizzle with remaining melted butter. Bake at 350°F for 5 minutes or until hot.

Tip: Stuffed mushrooms can be broiled instead of baked. Broil 6 inches from heat for 5 minutes until browned and thoroughly heated.

Makes 20 appetizers.

Recipes for Pasta Party Salad and Pistachio-Stuffed Mushrooms courtesy of California Pistachio Commission, which has many other recipes. Visit Pistachios.org.
Pistachio and Goat Cheese Stuffed Dates

One of our favorite hors d'oeuvre recipes, from Santa Barbara Pistachio Company. More recipes can be found on the company website. Our own variations are appended.
Ingredients
4 ounces soft goat cheese
1 tablespoon finely chopped fresh, chives plus more for garnish
3 tablespoons plain pistachio kernels, coarsely chopped
8 plump, soft dried dates, pitted and halved lengthwise
Fresh-ground pepper
Directions
Stir together goat cheese, 2 tablespoons chopped pistachio kernels and chives in a small bowl until smooth. Arrange the dates, cut side up, on a platter.
Fit a pastry bag with large round tip and fill with goat cheese mixture and pipe into each date OR use a small spoon and spoon the mixture into the date halves. Garnish with remaining tablespoon of pistachios, more chives and pepper. Makes 16 pieces.
Variations
Use mascarpone instead of goat cheese.
Use whole, pitted dates or prunes; pipe the cheese mixture into the center of the date. We prefer using whole dates—you don't have to worry about how even and neat the filling is in the date halves. You can decorate the top of each date with a pistachio, affixing it with a dab of honey.
For petit fours or sweet snacks, eliminate the pepper and chives.
For a special hors d'oeuvre, stuff prunes with chicken liver mousse and pistachios (or, for something truly deluxe, foie gras mousse). You can also soak the prunes for an hour or overnight in Armagnac before stuffing. Armagnac-soaked, foie-gras-stuffed prunes are available from D'Artagnan.
Pistachio Facts

How "Good For You" Are They?

Like all nuts, pistachios are relatively high in monounsaturated fats, a "good," heart-healthy fat which has been shown to lower blood cholesterol, possibly reducing the risk of coronary heart disease.*
*The FDA recommends eating 1.5 ounces per day of most nuts, including pistachios, as part of a diet to reduce the risk of heart disease.

Pistachios are also low in saturated fat and contain no cholesterol or trans-fats, making them a healthy snack at home, on the go or for entertaining.

Pistachios are an excellent source of calcium, carbohydrates, fiber, folate, iron, protein, magnesium, phosphorus and potassium.

An ounce of pistachios contains about 49 nuts (depending on size—see column at right) and has 170 calories. The nuts are nutrient-dense, providing a good balance of nutritional value per calorie.


Care & Storage

An unopened package of pistachios has a shelf life of over a year.
Store opened pistachios in an airtight container in a cool dark place. Kept this way, pistachios will remain crunchy for up to 6 months.
To restore pistachios that have become soft, toast them at 200°F for 10 to 15 minutes. Let them cool before eating.
You can freeze the nuts (and all nuts), and eat them right from the freezer—no need to "defrost."

Like all produce, pistachios are sorted by grade.* Santa Barbara Pistachios are Certified U.S. Fancy, the highest grade.
Pistachios are then sorted by the number of nuts per ounce:
Colossal = 18 or fewer
Extra-Large = 19 to 20
Large = 21 to 25
Medium = 26 to 30
Small = 31 and more
Santa Barbara Pistachios average 19.5 nuts per ounce for the 2005 crop.

*This assesses five criteria of the harvested nuts: suture splits, remaining hull material, staining, maturity of the kernel and insect damage.
For self, for entertaining, for gifts...stock up so you won't be caught thinking twice about sharing. You can buy the nuts in 16-ounce bags and 4-pound bags; but we insist that you start, as we did, with the Savory Sampler to try them all. And you just might want to order at least one extra 4-pound bag of Salted or Not Salted to feed your pistachio fever.
—Karen Hochman
FORWARD THIS NIBBLE to anyone who loves pistachios, wants to cook or entertain with them, and has friends who want delicious pistachio gifts.

SANTA BARBARA PISTACHIO COMPANY

SAVORY: Chile-Lemon, Chile Hickory, Crushed Garlic, Hickory-Smoked, Hot Onion Garlic, Lemon Zing, Not Salted, Onion-Garlic Roast, Red Hot Habañero, Salted
SWEET: Chocolate Toffee Pistachios, Pistachio Berry Mix

Certified kosher by the Orthodox Union

In-Shell Pistachios
16-Ounce Bag, Any Flavor
$7.00
4-Pound Bag
$25.00
Pistachio Kernels
12-Ounce Bag, Any Flavor
$8.00
5-Pound Bag
$35.00
Chocolate Toffee Pistachios
8-Ounce Crate
$8.50
(Available October through April)
Pistachio Berry Mix
12-Ounce Bag
$7.00
8-Ounce Crate
$8.50

Purchase online at
SantaBarbaraPistachios.com
Or telephone 1.800.896.1044

Prices and product availability are verified at publication but are subject to change. Shipping is additional.

Back to Index


The 7-Flavor Sampler Pack, above, gives you a taste of 6 savory flavors plus a larger bag of Salted. $20.00. The The Gift Trio, below, has three larger bags of the most most popular flavors: Salted, Onion-Garlic and Hickory Smoked (or customize it with your own flavors).

Savory Sampler (EDITORS' CHOICE)
3-Ounce Bags All 10 Flavors Of
Pistachios
$20.00
Gift Trio
3 12-Ounce Bags
$18.00
Other selections available on website






Read about some of our other
favorite products reviewed in the
Snacks Section of THE NIBBLE
online magazine.

Sweet Snacks




Savory Snacks
Nutty Books
| | | |
| --- | --- | --- |
| | | |
| The Book of Edible Nuts, by Frederic Rosengarten Jr. A fascinating look at the natural history of nuts—their evolution in the world's food supply, and their botany, ecology and cultivation. Tasty recipes with 370 photographs and illustrations. A definitive work on the subject and a treasured reference. Click here for more information or to purchase. | The Totally Nuts Cookbook, by Helene Siegel and Caroline Vibbert. A book to go nuts for: this is an international and multicultural collection of nut recipes. From the familiar peanut to the less common pine nut, here are nuts of all descriptions and how to use them in starters, side dishes or desserts. Click here for more information or to purchase. | The Walnut Cookbook, by Jean-Luc Toussaint. It's rare to find a book devoted to walnuts, but when you come from the Périgord region of France and are a specialist in its cuisine, you know how to use them in sauces, salads, with fish, meat, vegetables, pastas, in breads, jams, liqueurs and spirits, and of course, in desserts. A very special book for any cook or gourmet. Click here for more information or to purchase. |
Do you have friends who would enjoy THE NIBBLE?
Click here
to send them an invitation to sign up for the Top Pick Of The Week.
---
ABOUT THE NIBBLE. THE NIBBLE™, Great Food Finds™, is an online magazine about specialty foods and the gourmet life. It is the only consumer publication and website that focuses on reviewing the best specialty foods and beverages, in every category. The magazine also covers tabletop items, gourmet housewares, and other areas of interest to people who love fine food. This e-mail from the editors features the top food pick of the week. You can read the complete magazine and past issues at TheNibble.com.
© Copyright 2004-2015 Lifestyle Direct, Inc. All rights reserved. All information contained herein is subject to change at any time without notice. All details must be directly confirmed with manufacturers, service establishments and other third parties. The material in this newsletter may not be reproduced, distributed, transmitted, cached, or otherwise used, except with the prior written permission of Lifestyle Direct, Inc.