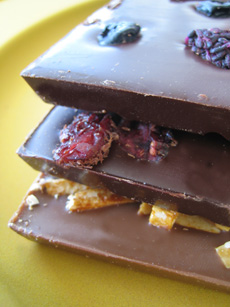 Artisanal bars from Michael Mischer Chocolates of Oakland, California. Photo by Melody Lan | THE NIBBLE.
KAREN HOCHMAN's first word was not cacahuatl...but as her mother will attest, it was pretty close.
May 2006
Revised January 2009

From Pod to Palate: The Birth Of The Bar
Page 2: Growing & Harvesting The Cacao Beans
This is Page 2 of a 10-page article on chocolate production. Click on the black links below to visit other pages.
Growing & Preparing The Cacao Beans

1. Growing The Beans
A consistent high temperature, plentiful rainfall, the right soil nutrients, and many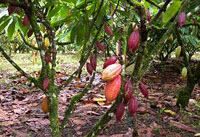 large shade trees to protect them from the sun and the wind (known as mother trees) are required to nurture delicate, sensitive cacao trees. Cacao trees grow worldwide in the warm and wet tropical belt that stretches 20 degrees above and below the equator. About 80% of the world cacao harvest is grown in 1- to 2-hectare estates: It's not big agribusiness, but small farm production. The cacao tree takes 4 to 5 years to produce its first crop but needs 10 years to produce really good fruit. The trees can reach 30 to 45 feet in height but are usually cut to 18 to 20 feet to make harvesting easier. The trees produce fruit twice a year, which is generally harvested before and after the rainy season. The fruit itself is sweet and tart, in the manner of passionfruit. The beans are innocuous, and give no indication that, after many processing steps, they will produce something as wonderful as chocolate. As you can see, the pods grow right from the branches and trunk ot the cacao tree. Photo courtesy of Dagoba Chocolate.

2. Harvesting
Cacao can be harvested throughout the year, but its main seasons are November to January and May to July. The football-shaped pods, also called cabosses (singular, cabosse, pronounced kuh-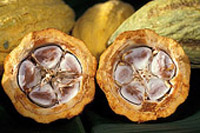 BAHSS) are hand-harvested by machete. It impossible to use machines for harvesting, because of the varying sizes of the fruit and because of potential damage to the tree, which is continuously producing new flowers and fruit. The pods are cut from the trees and sliced open manually using machetes. The whitish beans (the seeds of the fruit) which are surrounded by milky, sticky, sweet tasting pulp (the fruit) are removed. When ripe, each pod contains 30 to 40 seeds. Photo of cabosses by Keith Weller, courtesy of World Cocoa Association. Each cabosse yields enough beans for one chocolate bar.
3. Fermentation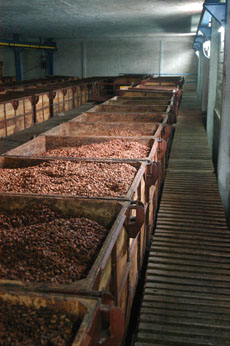 Fermentation of the beans takes place according to different methods in different countries: wrapped under large banana (plantain) leaves, in baskets, in wooden boxes or in cylinders stored away from light. It is during fermentation that the cacao beans start to develop the typical cacao flavors. Fermentation is a reaction between yeast and the sticky pulp. The fermentation process lasts from 3 days for some Criollo varietals to 6 or 7 days for other varietals. Fermentation reduces the bitter taste, gives the brown color to the bean and breaks down the remaining pulp. Once the yeast has done its work the result is a sweeter, more chocolatey flavor.

Photo of fermentary courtesy of Amano Artisan
Chocolate.
Continue To Page 3: Drying The Beans
Before We Dry The Beans,
Take A Look At Some Of Our Favorite Bars
We'll never forget the day we had our first Amedei chocolate. We danced with joy, and couldn't wait to give them to all of our chocolate-loving friends. Get to know one of our favorite artisan producers (Amedei means beloved of God, like Amadeus), made by the brother and sister team of Alessio and Cecelia Tessieri of Pisa, Italy. Click here for our review of this tiny chocolate powerhouse.
| | | |
| --- | --- | --- |
| | | |
| Amedei Chuao Bar. From the legendary Chuao village plantation in Venezuela, this rare chocolate is for the connoisseur. This gold medal-winning chocolate tastes unlike any other, with hints of bread and blueberries. Available in extremely limited quantities, each 50-gram bar is hand-numbered. Click here for more information. | Amedei Porcelana Bar. The genetically pure Porcelana bean, a rare Criollo, may be the second finest bean on earth. Named for its translucent white color, it produces an intense chocolate of great strength yet enormous delicacy. This 70% cacao bar yields notes of light spice, a hint of dark smoke, and nuances of red wine. A true gourmet's chocolate produced in a limited edition, each bar is hand-numbered. Click here for more information. | Amedei I Cru Squares. "I" stands for Ier, or Premier (think 1st in English). Finish your introduction to this great Tuscan chocolatier with six varietal napolitains of pure single origin cocoa, from the finest plantations in Ecuador, Grenada, Jamaica, Madagascar, Trinidad and Venezuela. An outstanding way to experience the variety and virtues of Amedei's great chocolates. Click here for more information. |
© Copyright 2005-2015 Lifestyle Direct, Inc. All rights reserved. Images are the copyright of their respective owners.