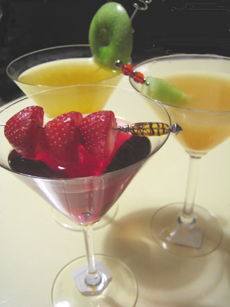 Fizzy holiday cocktails. Photo by Melody Lan.
ABOUT THE AUTHOR
CAITLIN BARRETT is on the editorial staff of THE NIBBLE™. She'll send back her drink if it isn't fizzy enough.

Alternative Mixes
Fizzy New Cocktails With "Adult" Sodas
First there were Scotch and Soda and Gin & Tonic; then came Rum & Coke. Now, a new generation of cocktails add sparkle with alternative sodas.
The ever-increasing popularity of "adult sodas" has improved the offerings on the cocktail menu. Those seeking lower-calorie sweet drinks have options to those incredibly caloric (if delicious) pina coladas and sugary Cosmpolitans; those eschewing the artificial need not worry about how many chemicals go into the average commercial soft drink. And those seeking something more interesting on the palate can try clementine and pomegranate instead of simple orange juice.
Today's alternative sodas—all-natural, lower-sugar soft drinks made with high-quality ingredients, low carbonation—are excellent mixers (as well as better soft drinks for guests who don't want alcohol or mineral water). Instead of the standard bar menu of Cosmos, Bellinis, and Long Island Iced Teas, take inspiration from these sodas
| | |
| --- | --- |
| We adorn our lovely libations with cute cocktail picks like those from Mum's Creations. Not only to they add to the beauty of the drinks, it makes it easier to tell the Raspberry soda and vodka cocktail you made for Mom from the cranberry soda that your little nephew is drinking. | |
Razzle and Dazzle
6 ounces Fizzy Lizzy Raspberry sparkling juice
2 ounces vanilla vodka
Ice
Fresh berries
Pour vodka over ice in a mixing glass. Fill the glass with Fizzy Lizzy sparkling juice, strain into a martini glass and garnish with skewered fresh berries.
Black is Back
4 ounces Izze Blackberry sparkling juice
1.5 ounces vodka
Ice
Lemon zest
In a mixing glass half-filled with ice cubes, combine the vodka and Izze. Stir well. Strain into a martini glass. Garnish with a slice of lemon zest.
Sherry Tart Cake
6 ounces Izze Lemon sparkling juice
2 ounces vanilla vodka
1 ounces sweet sherry
Mix all ingredients in a tall glass with ice. Serve with a straw and a cherry on top.
Sweet Apple Pie
6 ounces Fizzy Lizzy Fuji Apple sparkling juice
3 ounces Zubrówka (Bison Grass Vodka)*
In a mixing glass half-filled with ice cubes, combine the vodka and Fizzy Lizzy. Stir well. Strain into two martini glasses. Garnish with thin apple slices or apple rings.
*This cocktail is inspired by a Polish cocktail called "Tatanka." This is actually the Cherokee word for bison, and the name comes from the film, "Dances With Wolves." The Polish version combines one part Zubrówka (Bison Grass Vodka) with two parts tart apple juice. Bison Grass Vodka (easy to find in Polish neighborhoods and in Poland, but a bit more difficult elsewhere) is a clean, smooth vodka with sweet notes of vanilla and cinnamon. If it cannot be found, substitute it with a light vanilla vodka.
Holiday Blues
1 ounce vodka
1/2 ounce Blue Curaçao liqueur
Fizzy Lizzy Pineapple sparkling juice
Pour vodka and Blue Curacao liqueur into a highball glass over ice cubes. Fill with Fizzy Lizzy, stir, and serve.
Gin and Gin
2 ounces gin
Juice of 1/2 orange
GuS Extra Dry Ginger Ale
Pour gin and juice of orange into a highball glass over ice cubes. Fill with GuS, stir, and serve.
Tart Sparkler
2 ounces black currant vodka
GuS Dry Crimson Grape soda
Pour vodka into a champagne flute and top with GuS to taste.
Winter Sunshine
1 1/4 ounces vodka
2 ounces GuS Star Ruby Grapefruit soda
1 dash grenadine
3 lemon wedges
Pour the vodka and grapefruit juice into a glass with ice. Add grenadine and stir. Garnish with lemon wedges.
Grown-Up Punch
2 ounces citrus vodka
2 ounces Lemon juice
1 tablespoon sugar
Ice
GuS Dry Valencia Orange soda or Izze Clementine sparkling juice
Pour the vodka, lemon juice and sugar over a glass filled with ice and stir. Fill with the sparkling juice and serve with skewered melon chunks.
Prosecco Blossom
Izze Pear sparkling juice
Dry Prosecco or other sparkling white wine
Flower garnish
Fill a champagne flute about a quarter of the way with Izze. Fill the rest with Prosecco. Garnish with a small edible flower.
Pour a Fun Drink into a Fun Glass.
Martini glasses can be used for all cocktails as well as to serve seafood cocktails,
ice cream and sorbet, chilled soup,cranberry sauce and other sides. You can be
as imaginative as these glasses!
| | |
| --- | --- |
| | |
| Artland New Age Martini Glasses. Each of the four glasses in the set has a different slightly design on its frosted base. $24.95/set. Click here for more information. | Brilliance Martini Glasses. These dishwasher-safe glasses have round, cut-glass bases that sparkle like diamonds. Set of 6, $29.99. Click here for more information. |
| | |
| Artland Mini Martini Glasses. Multi-colored glasses are smaller (4.5" tall) yet still fully functional. Serving drinks of 3 ounces each lets guests pace themselves... or try smaller portions of different drinks. Click here for more information. Set of 4, $16.95. Click here for more information. | Lenox Tuscany Crystal Glasses. Crafted from fine crystal, these elegant 6-ounce glasses are 8-3/4" tall and have an etched swirl around the bowl. Set of 4, $39.99. Matching goblets, cordials, margarita and highball glasses available. Click here for more information. |
| | |
| Z Stem Martini Glasses. These witty, oversized glasses are 6-1/2" tall and hold 9-3/4 ounces. They're dishwasher safe. Set of 8, $19.99. Click here for more information. | Martini Chiller. For connoisseurs who must keep their beverages cold, an ingenious two-part glass. Fill the bowl with crushed ice and pour the drink into the cone-shaped glass insert. Four inches high, it holds a 4-ounce drink. Set of 2, $29.99. Click here for more information. |
© Copyright 2005-2015 Lifestyle Direct, Inc. All rights reserved. Images are the copyright of their respective owners.