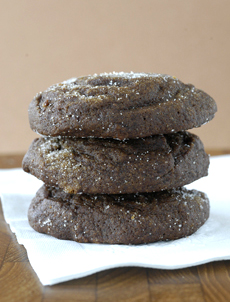 Molasses cookies—homey and historic, from the days when sugar was unaffordable to most households—from
This Little Cookie
. Photo by Dhanraj Emanuel.
November 2007
Updated July 2009

The History Of Cookies
Page 3: Types Of Cookies ~ A Cookie Glossary
This is Page 3 of a three-page article. Click on the black links below to visit other pages.
Types Of Cookies
The eight basic types of cookies are classified by the way the dough is handled. There's also a "faux" cookie, the no-bake cookie.
Bar Cookies. Here, batter or other ingredients are poured or pressed into a rectangular pan (sometimes in multiple layers), then baked and cut into individual-sized squares. Brownies and lemon bars are examples of bar cookies. In the U.K., bar cookies are known as "tray bakes."
Drop Cookies. A relatively soft dough is dropped by the spoonful onto the baking sheet. During baking, the mounds of dough spread and flatten. Chocolate chip cookies, oatmeal cookies and macaroons are examples of drop cookies.
Molded Cookies. Made from a stiffer dough that is molded into balls or other shapes (wreaths, for example) before baking. Almond crescents are an example of molded cookies.
No-Bake Cookies. A "faux" cookie, a kind of candy-cookie hybrid. An example is Rice Krispies Treats.
Pressed Cookies. Made from a soft dough that is extruded from a cookie press (cookie gun) or pastry tube into various decorative shapes. Spritz cookies are an example.
Refrigerator Cookies or Ice Box Cookies. Made from a stiff dough that is refrigerated in logs until it becomes hard. It is then sliced into rounds and baked. Examples include pinwheels and shortbread.
Rolled Cookies. Made from a stiffer dough that is chilled and then rolled out and cut into shapes with a cookie cutter, knife or pastry wheel. Gingerbread men are an example (or any cookie made with a cookie cutter).

Macaroons from Mad Mac, a NIBBLE Top Pick Of The Week.
Sandwich Cookies. Rolled or pressed cookies that are assembled as a sandwich with a sweet filling: frosting, ganache, jam, marshmallow creme and peanut butter creme are popular. The whoopie pie, made of two soft cookies with a vanilla creme filling, is an example (as is the iconic Oreo creme sandwich). French macaroons (photo above), two macaroons filled with a layer of ganache, are perhaps the most elegant example.
Fried Cookies. These are fried dough, often dusted with powdered sugar. Examples include the Jewish/Polish krusczyki and the Italian zeppole. Fried dough is becoming increasingly popular, with chocolate chip cookie dough, oatmeal cookie dough and others all headed to the fryer.
Go To Page 1: Overview & History Of Cookies
© Copyright 2005- 2015 Lifestyle Direct, Inc. All rights reserved. Images are copyright of their respective owners.