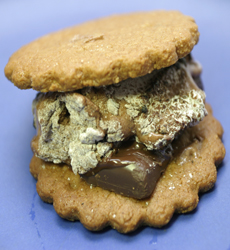 We made this incredibly delicious S'mores with Tiny Trapeze graham crackers and chocolate marshmallows, and a Chocolove 77% cacao Extra Strong Dark chocolate bar. All photography by Elton Lin.
KAREN HOCHMAN is Editorial Director of THE NIBBLE.
October 2005
Updated July 2010

Recipes For A Gourmet S'mores Party
S'mores Recipes That Will Have Everyone Begging For "S'more"
Page 1: Introduction
& Ingredients



There's an "official" S'mores Day—August 10th—but this American creation should be enjoyed every day of the year!
CAPSULE REPORT: S'mores are such a treat and so easy to make, it's surprising we don't have them more often. While you can make them as a quick snack, here's a game plan for turning them into a party. This is Page 1 of a three-page article. Click on the black links below to visit the other pages.
Introduction
Since the Girl Scouts popularized S'mores long ago (the first published recipe is in their 1927 handbook), it has been a happy tradition around the campfire: a stick, two toasted marshmallows, a square of chocolate and two graham crackers get you a delicious chocolate marshmallow sandwich. The heat of the toasted marshmallow melts the chocolate a bit, and the melted quality is oh so much tastier than the ingredients in their natural state. The name of the sweet sandwich snack comes from its addictive quality: you have no choice but to ask for "some more."
But you don't need a campfire, or even all of the classic ingredients, to celebrate with s'mores, as our recipes will show. We've combined several related concepts—fire, marshmallows and friends having a communal good time—into a Gourmet S'mores Party. It can be held year-round at the dining table or around the sofa for the majority of us who don't live in balmy climes. Have it while the kids are out trick-or-treating. And plan ahead for National S'mores Day, August 10th.
S'mores Party Recipe Ingredients
When dealing with fire and drippy food, a seated event is best. Each place setting needs:
Graham crackers (buy the best ones you can find—look in specialty food stores and try to get the Tiny Trapeze brand at Whole Foods Markets)
Marshmallows (Tiny Trapeze are our favorite—be sure to try their chocolate marshmallows too)
Chocolate (this is no time to stint on ingredients—use the good stuff, the darker the better [milk chocolate is too sweet to pair with marshmallows, so try a chocolate of 70% cacao or higher])
Ice cream and other ingredients from the recipes below
A votive or tea candle for each guest
Fondue forks (regular forks or skewers will do)
Beverages of choice (s'mores are sweet, so we like milk; some people prefer mineral water; serve dessert wines* if you want to go over the top)
*Banyuls, Late Harvest Zinfandel, Lustau Muscat Sherry "Emlin," Recioto Amarone, Ruby Port, Vin Santo
Continue To Page 2: Graham Cracker S'mores Recipes

© Copyright 2005- 2013 Lifestyle Direct, Inc. All rights reserved. Images are copyright of their respective owners.