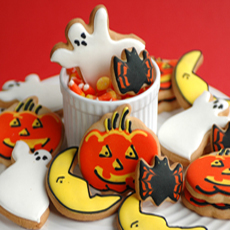 Yummy enough to send an adult out to trick-or-treat: Halloween cookies from
Eleni's Cookies
.


WELCOME BACK...
...to THE NIBBLE™, America's favorite foodie destination website.

*
Now that it's getting chilly, we have some spicy foods to warm you up...some of the finest teas and hot cocoas...and specialty beef for a hearty fall dinner.

There's lots more, of course, including Halloween treats, chocolate truffles and cocktail fun. Don't worry, dieters—we have nibbles for you, too!
If you're not already a subscriber to THE NIBBLE's weekly newsletter, you can have our top food pick of the week delivered directly to your e-mailbox. Of the thousands of specialty foods we taste each year, these are our favorites for both home use and gift-giving. You won't want to miss them! Sign up for the FREE NEWSLETTER now!
TABLE OF CONTENTS
Magazine Section

OCTOBER 2005
This Month's Nibbles

WEEKLY NIBBLES


Newsletter

Gourmet News

PRODUCT REVIEWS: WARMING UP TO FALL


Product Reviews




Main Nibbles™

Product Reviews




Diet Nibbles

Product Reviews




Kosher Nibbles

Product Reviews




NutriNibbles

ARTICLES & COLUMNS: HALLOWEEN FOR ADULTS, PARTY FAVORS

Features/Reference
Articles



Gourmet News

-->

Marketplace

Food Fun

PRODUCT REVIEWS: HOME ZONE

Home Zone




Appliances & Tabletop

Gourmet News

-->

Home Zone




Good Scents

What's Up Next?
To take a peek at the November table of contents,
click here.


Miss Last Month?


To read the September issue,
click here.
We look forward to your comments and any suggestions you have about how we can make THE NIBBLE™ magazine and newsletter more valuable to you. Click here to send us a note.

THE NIBBLE™ does not sell the products we review or receive
fees from recommending them.
Our recommendations are based purely on our opinion,
after reviewing thousands of products each year,
that they represent the best in their respective categories.


Related Food Videos:



For more food videos, check out The Nibble's Food Video Collection.


© Copyright 2005-2015 Lifestyle Direct, Inc. All rights reserved. Images are the copyright of their respective owners.