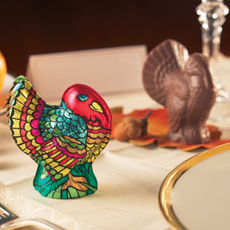 Chocolate turkeys like these from Bissinger's can perk up your table and serve as place card holders. Need ideas for Thanksgiving dinner? Click on the link for 12 delicious ways to spice up your feast.


WELCOME BACK...
...to America's favorite foodie destination website* and the November issue of THE NIBBLE.

If you love fine food, our goal is to point you to the best. This month, we feature Thanksgiving foods and holiday entertaining, plus Part I of our "100 Best Holiday Gifts for Foodies." For Continuing Education, our focus is on Olive Oil, with a glossary, guide to tasting, and a survey of 80 international and domestic extra-virgin oils.
*From an April 2005 poll of NIBBLE readers
In addition to this monthly online magazine, we e-mail our top food pick of the week to opt-in subscribers. If you're not already receiving THE NIBBLE's newsletter, click here have our Top Pick Of The Week delivered directly to your e-mailbox. Of the thousands of specialty foods we taste each year, these are our favorites for both home use and gift-giving. You won't want to miss them!
To read past issues of THE NIBBLE.
See the 25 most frequently-read articles.
We look forward to your comments and any suggestions you have about how we can make THE NIBBLE magazine and newsletter more valuable to you. Click here to send us a note.


THE NIBBLE does not sell the products we review or receive
fees from manufacturers for recommending them.
Our recommendations are based purely on our opinion,
after reviewing thousands of products each year,
that they represent the best in their respective categories.


Related Food Videos:



For more food videos, check out The Nibble's Food Video Collection.


© Copyright 2005-2015 Lifestyle Direct, Inc. All rights reserved. Images are the copyright of their respective owners.