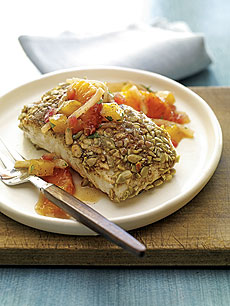 An intoxicating spice blend from India and a prized seed popular in Latin America

combine in this delightful fish dish.

Recipe: Pepita-Crusted Halibut With Blood Orange Jicama Chutney
A Spiced, Crunchy Addition To Your Halibut Recipes
For those looking for new and interesting halibut recipes, here's a combination guaranteed to become a favorite. Garam masala*, an aromatic spice blend from India, seasons a crunchy pepita (pumpkin seed) crust for the halibut. Fresh mango, jicama and blood orange make a refreshing complement to the crispy fish.
*The garam masala blend will vary by manufacturer, but generally includes cardamom, cinnamon, clove, cumin, nutmeg and/or mace, and peppercorn.
Yields 4 servings.
Ingredients
3 blood oranges or small seedless
oranges
3 tablespoons olive oil, divided
1/2 cup matchstick jicama strips
1/3 cup cubed peeled mango
1/4 cup chopped red onion
1 tablespoon Champagne vinegar
1 tablespoon agave nectar or honey
2-1/4 teaspoons garam masala,
divided
1 tablespoon coarsely chopped fresh
cilantro
1/2 cup unsalted pepitas (shelled
pumpkin seeds or kernels), coarsely
chopped
1/2 teaspoon sea salt
1 egg white, lightly beaten
4 halibut fillets (about 1-inch thick),
skin removed (1 to 1-1/3 pounds)

Garam masala and pepitas are a beautifully matched global combination.
Preparation
To prepare the Blood Orange Jicama Chutney, peel and section 2 of the oranges. Squeeze juice from remaining orange. Set aside.
Heat 1 tablespoon of the oil in large nonstick skillet on medium heat. Add jicama; cook and stir 3 minutes or until tender-crisp. Add mango, onion, 1/4 cup of the orange juice, vinegar, agave nectar and 1/4 teaspoon of the garam masala; cook and stir 1 minute or until sauce is slightly thickened and heated through.
Remove from heat. Stir in orange sections and cilantro. Spoon chutney into bowl. Set aside.
To prepare the crust for the halibut, mix pepitas, remaining 2 teaspoons garam masala and sea salt in shallow dish.
Brush fish with egg white. Coat both sides evenly with pepita mixture.
Heat remaining 2 tablespoons oil in large nonstick skillet on medium heat. Add fish; cook 3 to 4 minutes per side or until fish flakes easily with fork and crust is crisp and golden brown. Serve with Blood Orange Jicama Chutney.
Recipe © 2008 McCormick. All rights reserved. Other material © Copyright 2005- 2015 Lifestyle Direct, Inc. All rights reserved. Images are the copyright of their respective owners.