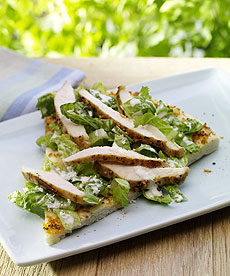 Caesar Salad Pizza: two favorites, chicken Caesar salad and pizza, combined into a single yummy dish.

Photo courtesy McCormick.

Recipes: Grilled Pizzas
Page 2: Grilled Chicken Caesar Pizza
This is Page 2 of a four-page article. Click on the black links below to visit the other pages.
Grilled Chicken Caesar Pizza: Hail Caesar
Eat your salad and your pizza simultaneously! Topped with Caesar salad, this grilled chicken pizza is a fun take on a classic main course salad. If you can't find the McCormick seasoning, devise your own garlic seasoning. Yields 6 servings.
Ingredients
1 pound boneless skinless chicken breast halves
4 teaspoons McCormick Grill Mates Roasted Garlic & Herb Seasoning, divided
1 pound fresh pizza dough or frozen dough, thawed; or 1 prepared thin
pizza crust (12-inch)
2 tablespoons olive oil, divided
4 tablespoons grated Parmesan cheese, divided
6 cups torn romaine lettuce
1/4 cup prepared Caesar salad dressing
Preparation
Sprinkle both sides of chicken with 3 teaspoons of the Roasted Garlic & Herb Seasoning. Grill over medium heat 5 to 7 minutes per side or until chicken is cooked through. Cut into thin strips.
Stretch or roll dough on floured baking sheet to a 12- to 14-inch round, about 1/4-inch thick. Brush top of dough with 1 tablespoon of the oil. Place oiled-side down on the grill. Close lid. Grill over medium heat 1 to 2 minutes or until grill marks appear on the bottom of the crust. Carefully flip crust over using tongs or spatula.
Brush crust with remaining 1 tablespoon oil. Sprinkle with remaining 1 teaspoon Seasoning and 2 tablespoons of the Parmesan cheese. Close lid. Grill 3 to 4 minutes longer or until cheese is melted and crust is browned. (Check pizza often to avoid burning. Rotate pizza, if necessary.) Slide pizza onto baking sheet.
Toss lettuce, salad dressing and remaining 2 tablespoons Parmesan cheese in medium bowl. Top crust with salad mixture and grilled chicken. Slice and serve immediately.
Go To Page 3: Steak Lover's Pizza
Recipe courtesy McCormick. All rights reserved. Other material © Copyright 2005- 2015 Lifestyle Direct, Inc. All rights reserved. Images are the copyright of their respective owners.