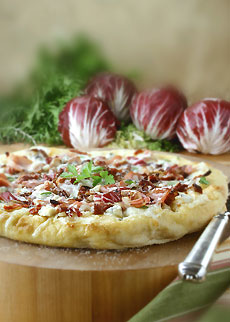 Pancetta, radicchio and three types of cheese create a gourmet pizza recipe. All photography and recipes courtesy
Royal Rose Radicchio

.

Gourmet Pizza Recipes With Radicchio
Page 4:

First Course ~ Cheese Trio & Radicchio Pizza

This is Page 4 of a six-page article of radicchio recipes; here, gourmet pizza. Click on the black links below to view the other pages.

On The Menu:
Cheese Trio & Radicchio Pizza
The sweet and salty pancetta and three cheeses nicely set off the bitterness of radicchio in this delightful pizza. Recipe yields two pizzas.
Ingredients
2 balls (8 to 10 ounces each) pizza dough
Flour as needed
Cornmeal (optional)
6 ounces sundried tomatoes in herbed olive oil, julienne-cut
(reserve the olive oil)
2 teaspoons minced garlic
1/2 teaspoon crushed red pepper flakes
4 ounces radicchio, coarsely shredded
4 ounces diced pancetta, prosciutto or cooked bacon
4 ounces shredded mozzarella cheese
3 ounces shredded Fontina cheese
2 ounces crumbled Gorgonzola cheese
2 tablespoons chopped Italian parsley
Preparation
Pre-heat oven to 475°F.

Sprinkle flour on a clean smooth surface. Stretch dough using your hand or rolling pin; flatten each ball to 1/2-inch thick circle.

Transfer dough to spray-coated or cornmeal-dusted 12-inch pizza pans. Continue stretching to fit pans.

Reserve 3 tablespoons of herbed olive oil (from sundried tomatoes) in a small bowl. Blend in garlic and red pepper flakes. Brush oil onto crusts. Bake 5 to 6 minutes, just until crust begins to brown.

Next, top each crust with 3 ounces sundried tomatoes and half each of the radicchio, pancetta, mozzarella, Fontina and Gorgonzola.

Bake additional 5 to 7 minutes until cheese melts and begins to brown. Remove from oven; sprinkle with parsley. Serve immediately.
Continue To Page 5: Pasta Course ~ Mushroom Risotto In Radicchio Wrap With
Balsamic Syrup
Recipe courtesy Royal Rose Radicchio. All other content

Related Food Videos:



For more food videos, check out The Nibble's Food Video Collection.


© Copyright 2005- 2015 Lifestyle Direct, Inc. All rights reserved. Images are the copyright of their respective owners.